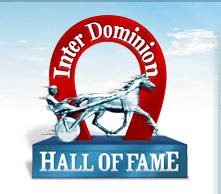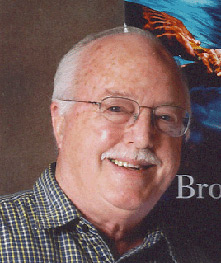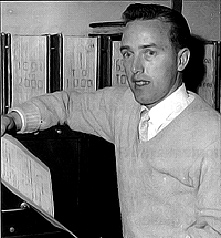 Ken Dyer, soon after being appointed NSW Registrar. As assistant time-keeper, he was holding the stopwatch on each of the nights Avian Derby, Ribands and James Scott became Australia's first 2:00 pacers


photo courtesy Max Agnew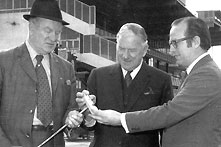 Gloucester Park 1975: Laurie Collins, Registrar WATA, Sir Frank Ledger, President, Aust Harness Racing Council, and Ken Dyer, CEO Aust Harness Racing Council


photo courtesty "Track Bred", Autumn 2007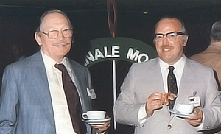 Representing Macau at the 1981 World Trotting Conference in Rome, Ken Dyer shares a cup of tea with Lord Langford, representing Great Britain


photo courtesy Max Agnew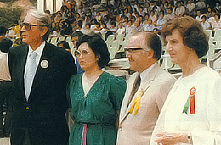 Ken and Betty Dyer, pictured with Gregory Peck and prominent local racing personality Lori Yip at the Macau track. Film stars from Hollywood were brought to Macau for promotion of the new sport there.


photo courtesy Max Agnew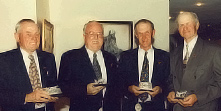 After receiving Harness Racing Victoria's Meritorious Service Award in 1997
Ken Dyer (second from left) is pictured with Jim Roberts, Les Pratt and Ian McCallum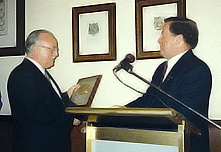 Receiving the Inter Dominion Gold Medal from the then AHRC & IDHRC President, Dr Ern Manea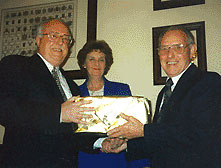 Ken and Betty Dyer, with Ray Holloway (WATA), at Ken's Retirement Dinner 1997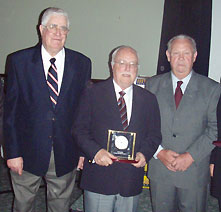 Ken (centre) with VSBA President, Stan Rutland (left), and Treasurer, Des McQueen (right) after receiving his 2008 VSBA Award



CAREER INDUSTRY ADMINISTRATOR AND WRITER
Born Kenneth John Dyer in 1932 at Oatley, NSW, a southern suburb of Sydney, Ken Dyer came into harness racing in 1947 as an office junior with the NSW Trotting Club (NSWTC) then in the CBD of Sydney.

The Secretary of the Club at that time was Norman Hollier who became Dyer's mentor over the next two decades. Hollier had started as an office junior in 1918 and had risen to Secretary in 1940. He later became Secretary to the Inter Dominion Trotting Council (IDTC) from 1956 to 1964.

In late 1948 the NSWTC was granted a night trotting licence and in the ensuing impetus in breeding and registration of horses the Club transferred some of its departments to Harold Park including the Registration Department to which Dyer was seconded.

By 1953 at twenty one years of age he had been appointed Registrar of the NSWTC and shortly afterwards was elected in a dual capacity as Honorary Secretary of the Trotting Horse Breeders Association of NSW (now called NSW Breeders and Studmasters Association) under President Jack Raith.

These two positions enabled him to become extremely well known to breeders, owners and studmasters throughout NSW. In addition on race nights at Harold Park he was in charge of the public and members office and was assistant timekeeper. On racedays at Menangle Park under the control of NSWTC he was the acceptance clerk, timekeeper and assistant judge.

During this decade Dyer met various Interstate and New Zealand dignitaries at Inter Dominion Championships Carnivals at Harold Park and assisted Joe Butler, the first full time Secretary of the Inter Dominion Trotting Council (IDTC), in compiling the first national Stud Book published in 1955. To fit in with information required for the Stud Book Dyer upgraded the NSWTC registration infrastructure to allow easy access to sires and brood mares records at the stud and correlated this detail with their racing performances.

In 1956 Norman Hollier succeeded Joe Butler as Secretary of the IDTC and in 1957 organized the first IDTC Registrars and Stud Book Conference in Adelaide. Representing the NSWTC Dyer put forward an initiative which was adopted calling for all State controlling bodies to provide uniform rules and infrastructure for sire registration, foal notification, naming of horses and stud book entry in the same manner as existed in NSW and SA. This was a huge step forward as the other States had been slow to move.

In 1962 the position of Secretary of the newly created Tasmanian Trotting Association was advertised and Ken Dyer was appointed to the position in Launceston. Not an easy position to administer where the previous North and South Trotting Clubs and Associations were in conflict with the new body he had an opportunity to start from scratch and bring in new registration, breeding and racing rules which startled Tasmanian reinsmen, owners, breeders and studmasters who had been used to going about their business in a free handed manner.

During this time he had the support of Harold Nevin the Chairman of the new Association and Arthur Neilsen then Commissioner for gambling and racing in Tasmania. Arthur Neilsen had originally been the handicapper/registrar in New Zealand in the 1940's but had been seconded in 1950 by JP Stratton President of the IDTC to draft the first Reciprocal Handicapping System. Stratton at that time had visions of creating an Australian national body to control the Stud Book, Registrar of Names, Handicapping, and National Rules of Racing. He also had in mind that Arthur Neilsen would have been the ideal person for the purpose of administration but Neilsen went to Tasmania instead.

Whilst in Tasmania, Dyer convinced the Association that it should join the IDTC and give Tasmania a voice in the making of national rules and where the mainland States might give concessions for the handicapping of Tasmanian horses when travelling to the mainland. The Tasmanian Trotting Association was accepted into the Council in 1963 and eventually came to race the Inter Dominion Championships in 1980 when funding became available through substantial B.P. sponsorship organized by the IDTC.

In 1964 Norman Hollier died and Ken Dyer was appointed to his position as IDTC Secretary. His first tasks were to simplify the naming records and to continue uniformity work on the national Rules of Trotting but priority was to be given to revitalizing the Stud Book archives to bring them up to the standard of the North American publications. Realising the problem was a combination of funding shortages and the lack of a data base of sires records and progeny, foalings and names, and race performances of each horse, he had to coordinate a new way of collecting information and a way to update such information.

After two years with assistance from each State, Dyer had established a data base of brood mare records and race performances of all horses as far back as State records would allow. The winning performers were assigned to their respective sires from which base the performers could be listed with their best winning performances and the progeny of mares could be cross matched.

At the same time it was realized that to secure funds for publication of the Stud Book it would be necessary to restructure and to impose annual fees on sires, mares, foals and naming of horses.

In 1966 Dyer recommended that Australia needed a Year Book to record historical racing data for posterity and this would also allow the Stud Book records to be updated annually. This was agreed by the IDTC and as a result the first IDTC national Year Book was published in 1968 and continued to 2001 when discontinued by the Australian Harness Racing Council.

In 1969 the IDTC received an invitation from the United States Trotting Association to attend the 1st World Trotting Conference in Columbus, Ohio, and Ken Dyer was appointed by the Council to attend on its behalf whilst Len Smith of the NSWTC represented that body. Thirteen national bodies were represented at the Conference.

Coming back from North America after the Conference with many ideas, Dyer reported on new discoveries and methods of freezebranding of horses by Swedish Professors at Cornell University. He also gave a report on a code which could be adapted to freeze branding - the code having being developed by the Washington State University. He proposed to Council that the two developments combined would give Australia a great opportunity to identify without error the entire trotting horse breed in Australia. The code could be recorded in the Stud Book and it would replace the inhumane hot iron branding. Additionally it could be read by officials and breeders and owners alike at racecourses and on stud farms to identify mares and foals etc. This was agreed by the IDTC and its members individually.

Out of this Conference came another initiative put forward by Stanley Bergstein for a World Driving Championship each two years and which has continued to the present time. The World Conference delegates also examined the work being done by the United States Trotting Association to develop mobile drug laboratories that would travel around the various tracks to test horses starting thereat. Dyer was interested in the USTA's microfilm records as well, but was told by officials that the technology would be outdated within a decade by development of computers.

Another issue which had its genesis at the1969 World Conference was the fact that Australia was not represented as an individual country but only as a member of the IDTC. This was far from satisfactory as Dyer considered that there should be an Australian national body to promote its racing and its horses internationally. This initiative was first put forward by Dyer at the 1970 meeting of the IDTC. Initially the reception was lukewarm, however, with persistence, the Australian Trotting Council (later Australian Harness Racing Council) was formed in 1974 as a separate incorporated body with Ken Dyer operating as the dual Secretary of the IDTC and ATC.

Works in progress within the IDTC umbrella were transferred to the ATC; the freeze branding program, the Stud Book and Year Book and other projects were part of the new body's charter, and opportunity to start off with a wish list of initiatives was never greater. Marketing and promotion developments included an awards system for horse categories and for reinsmen and administrators. In addition the new body, to encourage greater publicity in the media, created awards for current and historical articles, stories, and books. The names of prominent horses and notable trotting personnel were attached to each award.

In 1979 the IDTC, ATC and the NZTC combined to conduct that year's World Driving Championship throughout New Zealand and Australia finishing in Perth at the same time as the World Trotting Conference was convened. Ken Dyer was appointed General Secretary of the International Trotting Association (ITA) to serve a term of two years from 1978-1979 inclusive with authority to organize the Driving Championship and the Conference.

Shortly after completion of his duties in connection with the ITA Ken Dyer took up the position of General Manager of the Macau Trotting Company on a contractual basis for two years commencing January 1980. The proposed track on the island of Taipa was in the nature of an experiment as trotting in Asia was unknown.

Realising on arrival in Macau there was no finish date for the works, he set a time frame and plan for completion of Grandstand, Racetrack, Stables and Veterinary areas, ready for an inaugural meeting in August 1980. The infrastructure of the Macau Trotting Company and Macau Trotting Club had to be drawn up, and Racing Rules to be completed within the same timeframe.

By April 1980 the trainers, assistants, and their families had arrived and accommodation found, and 500 horses purchased in Australia and New Zealand were shipped in two tranches. Other incidental matters involving a reliable supply of feed were arranged in Australia, California and Thailand. Sulkies and gear were purchased in Australia. But by far the most difficult problem was the development of veterinary services. Generally trainers in their homelands were responsible for the health of their horses, however, in Macau the Company owned the horses and were duty bound to establish rules for medication and stable care.

This caused some problems for the trainers used to independent action but a system was developed that allowed for morning and evening veterinary service and the administration of medication, as trainers were not personally permitted to carry out these procedures.

At its opening the Macau Racetrack on Taipa Island was said to be the most modern in the world costing the owner forty two million US dollars to achieve his dream.

Returning to Australia in December 1981 Ken was appointed Secretary to the Bankstown District Agricultural and Trotting Society which conducted harness racing on its Bankstown Paceway.

He returned to Melbourne in early 1985 to take up a position with Harness Racing Victoria specifically to edit and upgrade its monthly magazine "Harness Racer" shortly after becoming Board Secretary to the Chief Executive Officer Dr Phillip Swan.

In 1986 Ken Dyer's previous positions with the AHRC and IDTC became vacant and he was appointed to his old positions. In the six years he had been away the Council's technology had been developed substantially and the computerization of records which he had started in 1969 had gone a long way towards establishment of better record keeping. Blood typing had been introduced by the AHRC in the early 1980's but Dyer foresaw that newly developed DNA techniques would be ideal for the harness racing industry and after its introduction Australian harness racing became the first horse racing code in the world to use DNA technology.

Ken Dyer was married to Betty Arnold at South Hurstville, NSW, in 1961 having three children - Graeme born in Launceston, Tasmania, Geoffrey and Trudy were born in Melbourne, Victoria.

Retiring in 1997 after fifty years in harness racing Ken Dyer was awarded the Inter Dominion Gold Medal for significant achievements to the harness racing industry whilst the International Trotting Association awarded him Life Membership for his services on a global scale.

Since retiring Ken has won several AHRC Literary Awards for stories about harness racing people, horses and events, and further recognition came in 2008 with a Distinguished Service Award from the Victorian Standardbred Breeders and Studmasters Association.