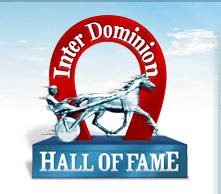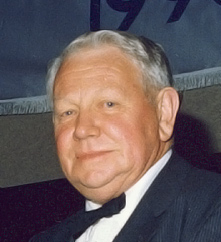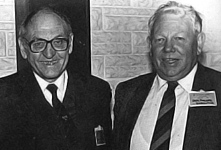 Jack Phillips (right), newly elected President of the NZ Harness Racing Conference, with outgoing President, Dewar Robertshaw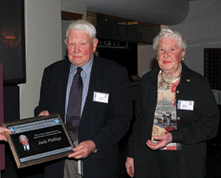 Jack and his wife, Mary, at his
induction into Addington Raceway's
Harness Hall of Fame


Photo courtesy NZ Harness Racing Weekly



SENIOR LEVEL ADMINISTRATOR AND STANDARDBRED ENTHUSIAST
Born John Gordon Phillips in 1929 at Kurow, New Zealand, he was known as Jack from his very youngest days. His father Gordon Phillips was a successful horseman in harness racing in the South Island of New Zealand, and Jack inherited his father's love for the standardbred.

Reared in farmlife, Jack went to school at Seadown and later married Mary McDonald, a daughter of an eminent thoroughbred trainer. Settling down at Timaru, the Phillips engaged in dairy farming; however, the breeding, rearing and ownership of standardbreds in a partnership with his brothers came naturally, and it was to be many years before Jack and Mary retired to a smaller farm closer in to Timaru where they still own standardbreds to race within the family circle.

Jack Phillips boasts a long personal involvement and association with harness racing administration that lasted over forty years, not only in New Zealand but in Australia and North America as well. His contribution at Inter Dominion and International level was recognized in 1994 when he was awarded the Ern Manea Inter Dominion Gold Medal for significant long term contribution to Australia/New Zealand harness racing affairs and/or the Inter Dominion Pacing and Trotting Championship.

Phillips proudly claims to have attended the Inter Dominion series at every venue at which they have been conducted and in the process to have made many lifelong friends at each location. These, and many other associates, were pleased when Jack was inducted into the Addington Raceway's Harness Hall of Fame in late 2009, as further testimony to his extensive support to the industry in so many areas.

Joining the Timaru Trotting Club's committee in 1962, he served his home club continuously through to 2002, capped by five years as vice-president and ten years as President. For thirty six years he was a Trustee of Timaru's famous Phar Lap Racecourse, with eleven of those years as Chairman.

A member of New Zealand Harness Racing's executive for sixteen years, he was the South Island vice president for four years and then President of the New Zealand Trotting Conference for five years from 1989 to 1993. During his term of office the difficult process of dealing with doping came to the fore and it was in this time the procedure of pre-race testing was brought into being.

At a higher level he served on the Inter Dominion Grand Council for five years and was senior vice president of the Inter Dominion Harness Racing Council 1988-1993. He also represented New Zealand at five World Trotting Conferences and worked on various standing Committees, as well as being vice president of a standout World Conference when it was held in Auckland in 1991.

The World Conference in 1991 in particular was noted for its aggregation and the combining of the Inter Dominion Pacing Trotting Championship Carnival and the World Driving Championship, intermingling with a week long exhibition of trotting veterinary products, craft and equipment. In addition the administrations of the World were represented by Canada, USA, France, Italy, Australia and New Zealand, exhibiting the latest at that time in computerization of records within their own countries and the first electronic links between nations.

An ardent breeder and purchaser of young standardbreds, Phillips, mainly in partnership with his brothers, Rex, Ian and Bruce, has enjoyed his share of success with numerous good performers. The best of them included the trotting mare Pure Adrenalin NZ Tr.1:57.4 winner of eleven races in New Zealand and a further twenty seven in North America for total earnings of $USD284,587 in North America.

Another exported to North America was Camero NZ P.1:54.4 winner of 21 races overall, whilst of recent times Spring Alot, P.1:58.6 and a winner of nine races and placed in fifteen races from thirty eight race starts for the family partnership has now been sold to North America for a new career there. Owned by JG, WI, and RB Phillips when raced in New Zealand, Spring Alot NZ was one of the first crop of foals of triple Inter Dominion Championship winner Our Sir Vancelot in New Zealand and was good enough to run third in the 2004 New Zealand Derby. The gelding is expected to do well on North American tracks.

Other New Zealand winners owned by the partnership include Three O'Clock Rock NZ (winner of six races), Extraordinaire (five wins), Victory Ball (two wins), Lord Vance (five wins), Bronnie's Fella (five wins), Magda Sorrell (five wins), and so forth. However, Jack utters a note of caution when he says "and there have been a number of others who had only one or two wins…. and others who never had any".