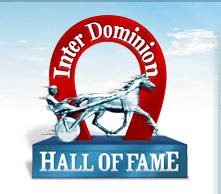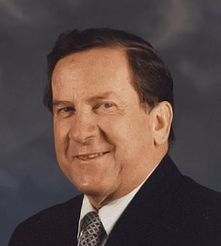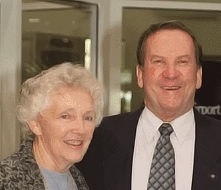 Ern and Beulah Manea
copyright

©

Gary Merrin, WA Sunday Time

s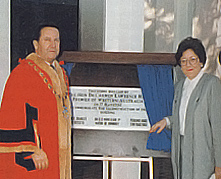 Dr Manea welcomes then Premier of Western Australia, Carmen Lawrence, to the official opening of the renovated Bunbury Council Chambers in May 1992


photo courtesy Max Agnew's "Harness and Hopples"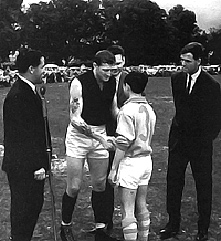 Dr Manea (left) with Kevin Murray, Ron Barassi and Neil Kerley, at one of the annual charity football games in Bunbury he helped organize in the 1960's


photo courtesy Max Agnew's "Harness and Hopples"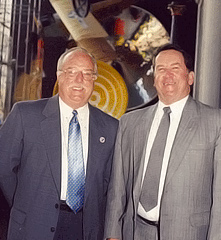 Representing Australia at the 1995 World Trotting Conference, Columbus, Ohio, with Ken Dyer


photo courtesy Ken Dyer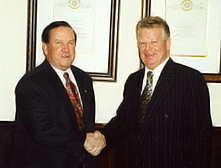 Welcoming in the new AHRC Chairman, Tony McGrath, in 2000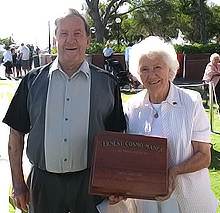 Ern and Beulah Manea after the 2007 Australia Day Presentation


photo courtesy Kim Fee, Bunbury Public Library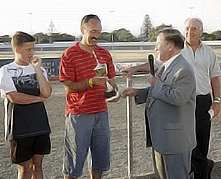 Ern Manea presents the winning trophy to Clive Berryman, part owner of Supabrew, who won the 2007 Ern Manea Classic at Bunbury
copyright ©

Adfoto and used with permission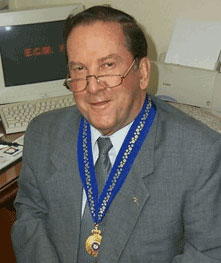 RENOWNED ADMINISTRATOR AT NATIONAL AND INTERNATIONAL LEVELS
Born at Albany on the southwest tip of Western Australia in 1926, Ernest Cosmo Manea went to local Primary and High Schools before graduating Bachelor of Medicine (MB) and Bachelor of Surgery (BS) at Perth and Adelaide Universities. He was later a Fellow of the Royal College of General Practitioners (FRCGP).

Establishing a medical career and medical centre at 26 years of age in the nearby big country city of Bunbury in 1952, Dr. Manea met his wife Beulah that same year at Royal Perth Hospital, where she worked as a nurse. He became involved in the local business and political worlds of that city, later becoming Mayor firstly in 1966-1972 and again in 1988. During his time as Mayor, Bunbury Town Council was selected as the most efficient and progressive local authority in Western Australia. Bunbury also won the Tidy Town Competition twice.

In the three decades 1960-90 Dr. Manea was appointed Director of South West Development and Regional authorities, Chairman of St John's Hospital, and community representative on the WA Technical Education Board. He also became a member of the AMA State Council, and Foundation President of the Bunbury Arts Promotional Council, as well as participating at a high level in many service and planning organizations in the Bunbury region.

As a highly popular Mayor of Bunbury his views on politics and planning were frequently sought by the various Premiers and Ministers of the State Governments of the day. His appointments included membership of the WA Government Committee of Inquiry into Rates and Taxes, plus Regional Planning and Development Committees. Dr. Manea was selected as the first elected member of Local Government to address the Institute of Municipal Administration in Canberra.

In 2001 the newly elected MLA for Bunbury Tony Dean, in his inaugural speech, said "without doubt, the major political giant of Bunbury in the past 30 years has been Ern Manea, a politician of such stature and skill that he has remained aloof from the party political process. I had the pleasure to serve three years as a councillor with Ern Manea when he was Mayor of Bunbury. He is a remarkable man with an intellect as big as his ambitions for the seat of Bunbury".

Earlier in 1954 Dr. Manea had become locally involved in the youth sporting community of Bunbury on committees and became President of the Bunbury District Junior Football Association in 1961. This later extended in 1965 to Presidency of the Bunbury Sports Youth Foundation, and his involvement in organizing an annual charity football match brought many celebrities to town, including Melbourne's Ron Barassi and Adelaide's Neil Kerley. He became closely associated with local senior football as President of the South Bunbury Football Club in 1961, graduating the same year to President of the Bunbury District Football Association.

His strong contribution to local affairs is reflected in the twelve life memberships he holds in sporting and community clubs, and in 2009 he was named as the inaugural patron of the South West Academy of Sport in Western Australia. There is also an educational college in Bunbury named after him.

In his student days in Adelaide he had frequently attended harness racing at the Wayville Track in Adelaide and then later, when a medical officer at Royal Perth Hospital, he attended patients from nearby Gloucester Park harness racing accidents.

On setting up medical practice in Bunbury he loaned one of his patients the cost of a service fee to a local pacing sire and when the patient could not repay he was given the resultant foal. Seemingly the harness racing industry was beckoning him into the sport - and it is an interest that still continues after 60 years at various heights of local, national and international involvements.

Becoming the owner of several pacers he founded the Marden Stud Farm in the 1950's just south of Bunbury, standing several imported stallions and at one time owning twenty one brood mares. His best horse in those times was the smart pacer Marden Miss which won the Bunbury Cup driven by his son Dennis. He later bred and raced Mighty Michael, a high class Gloucester Park winner.

Dr. Manea joined the WA Trotting Association at Gloucester Park in the mid 1960's and was co-opted on to the Committee in 1978 to help resolve disputes within the Committee. In a similar timeframe, he joined the Bunbury Trotting Club, and was elected to President in 1980.

In 1979 (to 1987) he became President of the WATA which led to Presidency of the Australian Harness Racing Council 1984-2000 and the Inter Dominion Harness Racing Council 1987-2000. In 1991-1993 Ern Manea served a term as President of the International Trotting Association (ITA) and became a long term attendee at the bi-annual World Trotting Conferences.

During this period Dr. Manea was elected a Member of the Racecourse Development Trust and the Totalisator Agency Board. Other positions he held were Board Member of Bunbury Institute of Advanced Education, Chairman of the Board of Western Broadcasting Services PL, and Chairman of the Board St John of God Hospital in Bunbury.

As Mayor of Bunbury he was a Leader in many initiatives including a Sister City Agreement with Setagaya City in Japan. In November 1994, as Mayor, he signed a major commitment with the local Nyungar to work together and recognize their rights and histories - only the second of such commitments in Australia. Earlier on in his football administration days he and his wife Beulah had taken in and raised an aboriginal teenager called Syd Jackson who developed into a star footballer in the South Bunbury FC and later moved to Melbourne where he became a notable player with the leading club of those days - Carlton.

In 1992 the AHRC acknowledged Dr. Manea with the JP Stratton Award, the highest Australian Standardbred Industry award. This was for his Leadership, Significant Achievement, Foresight, Initiative on a national and international basis over a significant period of time warranting national recognition by the harness racing industry. In 1997 the International Trotting Association confirmed his contribution to International Trotting affairs by awarding him Life Membership. In 1997 also the Ohio House of Representatives (USA) awarded Ern Manea a Special Recognition Certificate.

His contribution as a member of the Rotary Club of South Bunbury for many years was noted in 1996 with his being made a "Paul Harris Fellow". He was already a Fellow of the Edith Cowan University, a University that he was prime mover for its establishment when Mayor of Bunbury years earlier.

In 2000, on completion of his Presidency and handover to Mr. Tony McGrath, the IDHRC awarded him its Gold Medal, and renamed the award the "Ern Manea Inter Dominion Gold Medal". One of the many tributes at the time came from The United States Trotting Association: "Dr. Manea has not only been a leader in Australia, but is equally respected and recognised on a world-wide level. Ern Manea IS harness racing around the world, and he will be missed more than he may realize. With a heavy heart we farewell a good friend."

In 2002 Dr Manea ended a 50 year relationship with his medical centre and established a private practice. At this time it was stated that he had delivered three thousand five hundred and eighty one babies.

Renowned as a brilliant orator, Ern Manea's speaking skills were an asset to the organizations he was leading. However, in retrospect, his greatest ability was to foster progress and development, particularly in harness racing, in an era of great technological change, culminating in major advances and a more truly national philosophy.

His contribution to the community and local Government was recognized earlier in his life, being appointed a Member of the Order of Australia (AM) in 1985 and an Officer of the Order of Australia (AO) in 1998. He also received the Australian Centenary Medal. His wife Beulah is a notable person too in her own right. A very good public speaker, Beulah also participated in community affairs in Bunbury, particularly in arts and historical projects, and in 2006 was awarded OAM for her services to the local community.

On Australia Day, 2007, a special presentation was made to Dr. Manea in Bunbury - a set of tapes and transcript of interviews detailing his life, including his involvement in harness racing, which Bunbury Trotting Club highlighted in 2006 with the inaugural Manea Classic race for pacers, which is being run annually. In 2010, his induction as an Associate into the Western Australian Racing Hall of Fame was a further acknowledgement of his outstanding service to the industry.

Dr Manea's death in October 2013 after a short illness brought numerous tributes, with politicians, community leaders and the standardbred industry included. His immense contribution to the community will be a continuing legacy shared by many.