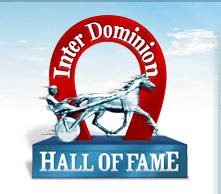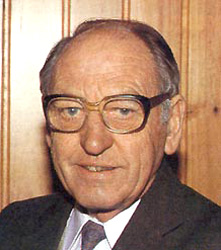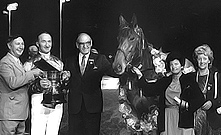 Dewar Roberts

haw

(centre) with Graeme Lang, winning driver of the 1985 Trotting Championship, Scotch Notch and connections at the presentation ceremony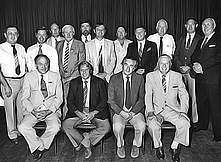 Dewar Robertshaw (seated far left) and Members of the Inter Dominion Trotting Council at the 1983 Meeting. Graeme Cochran (President) is seated second from right.



ADMINISTRATOR AND CLUB PATRON
During his five-year term as president of the New Zealand Trotting Conference (1983-87) Dewar Robertshaw became the only man to reign as president also of the International Trotting Association and Inter Dominion Trotting Council (1984-1987)

In 1994 he was awarded the Ern Manea Inter Dominion Council Gold Medal for his services to trotting.

Robertshaw began his law career as a barrister and solicitor in Hamilton, New Zealand, in 1937. Following World War

II

, he spent 10 years in Somaliland, first as a magistrate, then as Attorney General.

After settling in Auckland, he became interested in harness racing and joined the Auckland Trotting Club as a member in 1965. He was elected to the club's committee in 1972, and served as vice-president from 1981 to 1983. He was the club's delegate to the Trotting Conference from 1972, and was elected to the Board of the TAB in 1981 by Conference delegates. On winning an election for the Conference presidency, he relinquished the vice-presidency of the Auckland Trotting Club in 1983.

Dewar's defeat of the incumbent Conference president Sir James Barnes marked the first time a sitting president had been ousted. Although many pundits saw it as an upset win, Robertshaw himself did not. "I gave myself a reasonable chance, because four South Island clubs approached me to stand," he told delegates. "For the first time in my memory, parochialism has gone out the window," he added.

Proving this point, whilst there were 35 South Island and 23 North Island clubs, Robertshaw beat Sir James 36 votes to 22. It was a great mark of respect for Dewar and his administrative talents.

In his first speech as Trotting Conference president, Robertshaw told clubs not to expect great changes under his leadership. "I do not shoot from the hip. I will do my homework and seek the co-operation of the executive in any decision-making," he said. He then added he intended to have a close look at the dates structure, transport costs and centralisation. He also expressed concern that the Conference executive was lax in implementing recommendations approved by delegates at annual meetings. "If it is not practical to implement them, then clubs should be told why. To say they are only recommendations is not good enough," he said.

Indicating that he would stand down from the Auckland club's vice-presidency, he said: "My job will be to look at trotting as a whole."

True to his word, Robertshaw displayed excellent leadership qualities that as well as greatly improving the government of harness racing in New Zealand led to him being elected to tenures of chairmanship of the International Trotting Association and Inter Dominion Trotting Council.

When Robertshaw had served his first year as NZ Trotting Conference president, Canterbury harness racing scribe Dave Cannan in his editorial in New Zealand's 1984 DB Trotting Annual, wrote:
"There is a sense of order about the New Zealand Trotting Conference. It was patently obvious at the annual meeting in July – truly one of the best-organised and smoothly-run conferences I can recall. Credit for this rests, I feel, with President Dewar Robertshaw. His style may not please everyone, but few could argue with his fairness in debate plus his knowledge of the industry. He openly promotes division of opinion from his executive – something unheard of until now – and profits from it."

In editing the 1985 Annual, Cannan wrote of Dewar's handling of that year's annual meeting of Conference delegates in Greymouth:

"Best Solo Performance - Dewar Robertshaw, NZ Trotting Conference president, for his widely-acclaimed centre-stage efforts at the annual meeting at Greymouth in July. The definition of a virtuoso, according to the Collins English Dictionary, is: 'A person who has a masterly or dazzling skill or technique in any field of activity'; and that couldn't sum Dewar up better. He ran the meeting like he wrote the script and produced and directed it into the bargain. But, while I join those who admire him for his excellent skills as chairman, I do not think the trotting industry is so healthy that it can afford to have nearly 60 delegates sit quietly through the day and add very little to proceedings."

During 1983-84, he was Senior Vice-President of the Inter Dominion Trotting Council, and after being installed as a Life Member of the Auckland Trotting Club in 1985, Robertshaw served on the committee through 1988. He became Club Patron in 1993, an honour he retained to the time of his death in August, 1997, aged 83.

On stepping down from the Trotting Conference presidency in 1987 after five years at the helm, he was honoured by the delegates at the annual meeting at Oamaru and given a lifetime pass for harness racing meetings. Typical of his willingness to assist the code, he devoted his time over the next few years helping to tidy up the cumbersome Rules of Trotting.

Very moderately involved as an owner, Dewar had his best success in this department racing the useful pacing winner Huatu with Doug Grantham.