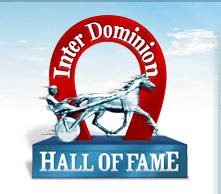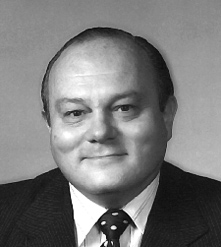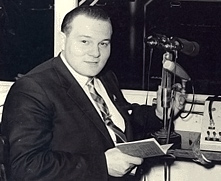 Bruce Skeggs at the microphone, ready for one of many race calls he made during his career
photo courtesy the Skeggs family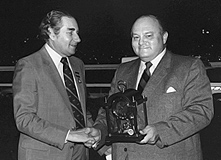 Bruce Skeggs receives a trophy from Graeme Cochran, Chairman of the Trotting Control Board, to commemorate his retirement from race calling in 1983 (Moonee Valley)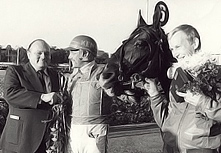 Bruce Skeggs at Solvalla, Sweden 1980
copyright ©

Einar Anderssons Pressbild AB, 1980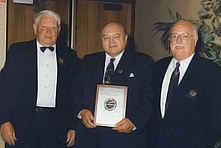 Bruce Skeggs with Jack Phillips and Ken Dyer, after receiving the Inter Dominion Gold Medal.



BROADCASTER, JOURNALIST AND ADMINISTRATOR
Bruce Albert Edward Skeggs was born October 11, 1932, Cremorne, Sydney, NSW. His background, skills and experience led to his becoming highly regarded as a
harness racing broadcaster, journalist and administrator, who was the "Voice of Victorian Trotting" for more than 30 years.

While a student at Katoomba (NSW), Skeggs learned voice production and microphone technique and enjoyed singing with bands conducted by his mother, Ethel. At age 11, he won a talent contest called Australia's Amateur Hour and the local paper ran a story likening him to Nelson Eddy. Bruce got singing engagements, mainly entertaining sick and wounded soldiers, during World War II.

Following his mother's untimely death, Skeggs was raised by his mother's relatives in Sydney for at least two years, and then by his father's relatives in Adelaide.

He attended Nailsworth Technical School in South Australia where he was educated to intermediate level. Through his uncle, Bob Skeggs, who trained pacers and trotters, Skeggs developed a lifelong interest in harness racing. He often assisted his uncle in training the horses on the beach.

As a teenager he appeared on the Quiz Kids program, conducted by John Dees on the Adelaide radio station 5DN. At age 16 he won a cartooning contest run by the Adelaide News afternoon tabloid. He moved to Melbourne seeking work as a cartoonist with Smith's Weekly.

In Melbourne, he met World War I veteran, Albert "Vic" Smith, editor of The Guide, a weekly racing and trotting form guide. Vic, a nephew of the Smith's Weekly publisher Sir Joynton Smith, hired Bruce to work on the form guides, becoming like a second son.

Skeggs' next big break came in the same year when he was covering a trotting meeting at Boort. The course commentator failed to arrive for work. There was a call for a volunteer and Skeggs – being no stranger to microphones – offered his services.

Bruce borrowed a bookmaker's binoculars and recalled that some of the fields had up to 20 runners, with dust flying everywhere. It was the start of a brilliant career. At the end of the day, Skeggs was signed up as a broadcaster by officials from six other clubs.

Skeggs also worked as a harness racing journalist at The Argus, a daily Melbourne broadsheet newspaper, and the Farm and Home magazine from 1950 to 1956.
In his spare time, Bruce loved to go to the cinema and catch a movie. He also continued his musical interests, singing with big bands at well known Melbourne night clubs such as Leggetts Palladium and Siro's. In 1951, he recorded and copyrighted two songs, You Shared My Kisses, and What a Pleasant Surprise. Both songs enjoyed modest airplay.

A member of the Al Jolson Fan Club, Skeggs won wide acclaim for his rendition of songs of the former black and white minstrel singer and seldom missed an opportunity to sing at private parties and functions.

By 1955, Skeggs was also the official on-course commentator for the then Trotting Control Board, later known as the Harness Racing Board, at the Royal Melbourne Showgrounds during a golden era of harness racing. He beat another well known race broadcaster Bill Collins for this job, and for the position of Course Broadcaster at Bendigo (1965).

Skeggs went on to call a world record 34,000 harness races, including 20 Inter-Dominion Grand Finals from 1959 to 1979 for a network of radio stations. He broadcast races in ten different countries – Australia, New Zealand, United States of America, Canada, Italy, Sweden, Denmark, Norway, Germany and Macau.

A devout fan of the straightout trotter, Skeggs described two of the world's most famous trotting events, the Hambletonian in North America and the Elitlopp in Sweden. While a guest caller at the famed Yonkers Raceway, New York, Skeggs gained special recognition from locals for calling all runners to the wire.

He was behind the microphone for the historic dead-heat in the 1965 Inter-Dominion Pacing Championship Grand Final at Forbury Park, Dunedin between Robin Dundee and Jay Ar and described trotter Maori's Idol's record time trial at Moonee Valley, Melbourne in 1977.

Possessing a clear, concise delivery, a legacy of his early singing days, Skeggs became widely known for his colourful, accurate and unbiased race commentary and for the number of phrases he coined. These included "the starter calls the field", "the arms fold in and they're rolling", "box seat trail", "this IS the bell" and "coming from the clouds".

Skeggs was also the official trotting commentator at the Royal Melbourne Show for 28 years and worked at various country agricultural shows in Victoria and gymkhanas around Melbourne. He also broadcast the trotting race in the Australian film A Country Town, featuring well known actors such as Terry McDermott and Gary Gray.

Though he never had a wager, Skeggs topped the tipster's poll on several occasions and his tips were highly sought after in the early days at the Melbourne Showgrounds with Bob Hawke and Rupert Murdoch among the luminaries to profit from his skills.

Skeggs rates Cardigan Bay, harness racing's first million dollar earner and winner of the 1963 Adelaide Inter-Dominion, as the best pacer he ever saw. Others included the great Tasmanian Halwes, Caduceus, Reichman, Minuteman, Popular Alm and the trotters Nevele Pride, Maori's Idol and Touch Merchant.

One of his all-time favourite race calls was Radiant Destiny's win in the 1975 Victoria Oaks at the Melbourne Showgrounds. The filly was trained by his cousin, Robert "Robin" Skeggs.

Among the many fine horsemen he was privileged to know were George Gath, Gordon Rothacker, Ted Demmler, Neville Gath, Dave Wilson, Perc Hall, Jim Caffyn, Kevin Newman and Dick Webster.

When The Argus was closed in late 1957, Bruce worked briefly at the Melbourne Herald evening broadsheet before joining Southdown Press to develop a prototype television and radio magazine. Future media tycoon Rupert Murdoch liked the idea and Skeggs was appointed as a columnist with the now evergreen TV Week.

After a few years writing a column called On the Beam, Skeggs decided to try his hand at publishing. He experimented with a motor sport magazine, then came the Footy Fan magazine with such guest columnists as the great Melbourne captain Ron Barassi.

But trotting was his first love and the Trotting Register monthly magazine was launched in 1960. The official organ of the Australian Harness Racing Council (AHRC), the Trotting Register was published until 1991, when it was sold to Rural Press.

Skeggs also published and edited the first Year Book of Australian Trotting in 1960 and compered the Trotting Register of the Air program for a network of Victorian country radio stations for more than 20 years.

In his role as a Chairman, World Publicity and Promotion Committee of the International Trotting Association from 1972 to 1987, Skeggs edited the periodical World Trot Press and developed and promoted extensive International Affiliations for Australian harness racing, particularly in Europe within the International Trotting Conference framework. He also served as Honorary Public Relations Officer for the AHRC since its inception in 1973 to 1997 and the Inter Dominion Harness Racing Council.

Skeggs was also a long standing committeeman of the Cranbourne Harness Racing Club and was president from 1991 to 1997 – with his contribution acknowledged by a Life Membership. He also served on the executive of the Victorian Country Clubs Association from 1991 to 1996 and was a foundation member and president of the Caduceus Club.

In 1995 Skeggs received a Distinguished Service Award from the AHRC and a Media Award for Radio Commentaries, while his name is perpetuated by the running of the annual Bruce Skeggs Trotters Cup at Cranbourne. In 1998, Skeggs was awarded the Inter Dominion Gold Medal, and was an inaugural inductee into the Victorian Harness Racing Media Association's Hall of Fame in 2009, billed as "a distinguished broadcaster".

After joining the Liberal Party in the late 1950's, Bruce's inherent qualities found him juggling his career at the racetrack with that of politics. He served nine years as MLA for Ivanhoe (1973-82) and eight years as MLC for Templestowe Province (1988-96) and was a member of the Parliamentary Racing Committee, leading deputations to the Premier and Treasurer on Harness Racing matters including the introduction of Sires Stakes racing.

In local government Skeggs was a long term City of Heidelberg councillor, including a year as Mayor in 1990-91. In addition to these formal duties, Skeggs lent his weight to countless community projects, not the least being the establishment and management of the community radio station 96.5 Inner FM, where he was president for some ten years, and became a patron upon retirement. He was also involved with other organisations such as the Austin Hospital (Board member 1970-83) and Middle Yarra Advisory Council (member 1973-82).

He served Freemasonry as Past Deputy Grand Master of the United Grand Lodge of Victoria, and with the vestry of St George's Anglican Church, Ivanhoe where he compiled the history of the church for its Golden Jubilee (1979).

The ultimate recognition of Skeggs' contribution to the Australian community came in October 2000 when he was invested with the Medal of the Order of Australia (OAM) for "service to harness racing, to the Victorian Parliament and local government, and to the community."

Bruce was also witness to one of the biggest stories of the century: the September 11 terrorist attacks on the World Trade Centre. He was in New York for a World Freedom and Democracy League conference at the United Nations and watched the whole thing unfold from his hotel window about 3 kilometres away.

Married to Evelyn (nee Gronn) in 1958, a marriage that produced four children – Philip, Julie, Robbie and Margaret – Skeggs retained a love of racing and radio until his death in March 2013 (aged 80 years).