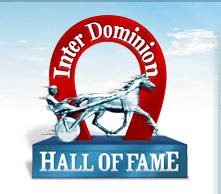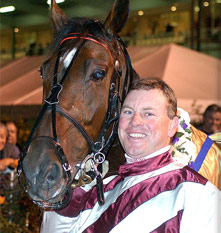 Take A Moment and Anthony Butt after their 2003 Trotting Championship win in Christchurch
copyright © Race Images Christchurch Ltd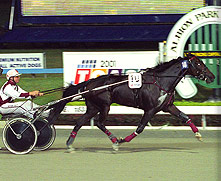 Take A Moment scores an easy win from Mountain Gold NZ in the 2001 Trotting Championship, Albion Park.
copyright © Harnesspix
Photography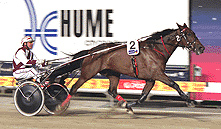 Take A Moment and Anthony Butt win the Bill Collins Trotters Mile, Moonee Valley
copyright ©

Gary Wild and courtesy
Harness Racing Victoria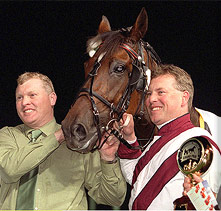 Tim and Anthony Butt with Take A Moment after winning the 2002 Australian Trotting Grand Prix, Moonee Valley.
copyright © Gary Wild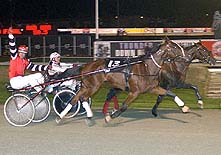 A close win to Take A Moment (on the inside) from Castletons Mission NZ in the 2003 Trotting Championship, Christchurch.
copyright © Race Images
Christchurch Ltd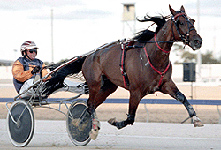 Take A Moment recorded 1:57.2 at his Geelong time trial – 24/01/04
copyright ©

Gary Wild and courtesy
Harness Racing Victoria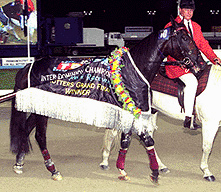 Take A Moment parades the 2001 Inter Dominion Rug
copyright ©

Harnesspix Photography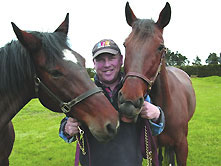 Take A Moment (left) and Lyell Creek with Lindsay Kerslake at their new home


photo courtesy NZ Harness Racing Weekly



INTER DOMINION TROTTING GRAND CHAMPION 2001, 2003 (TR1:57.2)
Burgeoning in the shadow of the mighty Lyell Creek NZ, Take A Moment, despite displaying a gait conservatively described as "awkward looking" that belied his strong trotting bloodlines, rose to become his stable star's worthy successor.

In a career involving 67 starts from age five to 10, earning NZ$1,164,356 in the process, the tough gelding included Inter Dominion Grand Final victories in 2001 in Brisbane and 2003 in Christchurch among his 39 wins.

Bred in New Zealand by Central Districts enthusiast Andrew Corkran, and first raced with his nephew Paul Corkran, who trained him in Canterbury, Take A Moment won them four races from his first six starts as a late 4-year-old and early 5-year-old. At this point - following an easy victory at Addingon in September, 2000 - his impending sale to America for a reported $120,000 was announced.

How fortunate for the Tim Butt stable and nine of his clients - not to mention the harness racing fans of New Zealand and Australia - that the transaction fell through.

Butt then secured him for a syndicate comprising Bruce Greenhalgh, Barry Cotton, Jack O'Donnell, Merv Rodgers, Peter Barber, Neven Botica, Julie King-Turner, Tom Malcolm and Trevor Woolley. The group outlaid $120,000 to get the gelded son of Armbro Invasion USA and Jet d'Emeraude EU mare Nakura (NZ). He was quick to give them reason to believe that he would turn out to be a bargain. In his first appearances for his new connections, in the hands of Tim's brother Anthony, he won all three of his starts at the 2000 NZ Cup carnival - the third of those wins in a New Zealand record.

Taken to Auckland the following month, Take A Moment, despite racing in the "death seat", won his Alexandra Park debut, thereby graduating to open class. Taking a few starts to measure up to the highest grade, he nevertheless showed enough to earn his first trip to Australia - with the 2001 Brisbane Inter Dominion title in his sights.

Things didn't go all that well on opening night at Albion Park, where Take A Moment battled into sixth. But three nights later he showed his true colours, comfortably taking out his heat in track-record time. It was an effort that prompted Anthony, on coming in, to assure brother Tim: "Only bad luck will beat him in the final."

Safely away from the 20m mark in the Grand Final, Anthony bided his time in the 3157m grind before giving Take A Moment his head a mile from home. Working steadily around the opposition, they were in front 1000m out; after which there were no worries. At the end he drew away for an easy win and his 2:03.3 mile rate represented another track record.

The following season, Take A Moment showed his readiness to tackle the Dominion Handicap with an effortless win in the 3200m Canterbury Park Trotting Cup at Addington in October.

Queried on Take A Moment's awkward-looking action when extended, the trainer explained the gelding suffered from soreness in his feet, due to white soles, conducive to concussion. And, while he won nicely off 20m on Cup day at Addington, he had to have a corn removed from a near-side foot the day after. Three days later - Show Day - he finished a lack-lustre sixth in the NZ Trotting Free-for-all, won in record time by Last Sunset NZ.

With only a week until the Dominion Handicap, Take A Moment once again underlined Tim's great training skills. Spotting all of his 12 rivals 10 metres at the start, Take A Moment was blessed when race favourite Last Sunset NZ broke in front 1200m from home and knocked out second favourite Mountain Gold NZ, who had been enjoying the trail. Away from all this trouble, Anthony was able then to forge around to the front and win comfortably.

The victory, the third on end in the race for the Butt brothers, moved Tim to shake his head and quip: "I think God had ten each way on Take A Moment tonight!"

Taken then for the first time to Moonee Valley (December 2001), Take A Moment disgraced himself by galloping and finishing out the back in the Bill Collins Mile, won comprehensively by sensational La Coocaracha. And in the $100,000 Australian Trotting Grand Prix there a week later, though driven to perfection in the 1-1 by Anthony, he was no match for that champion Victorian mare but was a good second.

Soon after, back at Auckland, Take A Moment was beaten a half-length by Major Decision (NZ) in national record time in the NZ National Trot. Two nights later, at Cambridge Raceway, he turned the tables on that rival, edging him out in a swift 1:57.2.

Another three weeks on, Take A Moment was back at Moonee Valley, where, with a second and a win going into the $100,000 Australasian Trotting Championship on February 9, he again played second-fiddle to La Coocaracha. Sharing the 30m back mark with her, he chased her in, some 20 metres in arrears. Coming in Anthony remarked: "I thought my drive was one of my best in a big race, and that Take A Moment was at least as good as when he won the Inter Final, but she made him look second-rate."

His 2002 Inter Dominion campaign was unsuccessful, but after a well-earned respite, Take A Moment waltzed away with the Ordeal Cup at Addington in September. A memorable occasion, it gave Anthony career win number 1000.

Excellent form followed, leading up to the 2002 NZ Cup carnival, where after an easy win in NZ Trotting Free-for-all on Show Day, they gave everybody a 10m start in the Dominion Handicap and in an epic finish hit the wire in a dead-heat with crack Auckland mare Martina H NZ.

Take A Moment then won the Bill Collins Mile at Moonee Valley, unextended in a track-record 1:57.7. A week later there, annexing the Australian Trotting Grand Prix in a 1:59.8 rate over the 2750 metres, he became the first trotter in the Southern Hemisphere to break the 2min barrier for a race longer than 2400m.

Back to Kiwiland, Take A Moment won features at Auckland at Christmas and Cambridge at New Year 2003, then freshened for his third Inter Dominion attempt in Christchurch. Invincible form through the three heats saw him start at prohibitive odds for the Grand Final. This he justified, but only by a nose, after he and his runner-up Castletons Mission NZ, stormed home from the rear in the final section to provide a grandstand finish.

In Auckland's Rowe Cup, giving the others 15m start, he had to work wide and hard without cover to lead the last lap. He then got lucky as his challenging runner-up Martina H NZ was distracted, shied and lost momentum, losing to her arch rival by a neck.

Only twice beaten in his 16 starts as a 7-year-old, Take A Moment resumed at 8 in the same devastating form. Again he won the NZ Free-for-all (streeting his opposition), and he then capped a spectacular career by winning his third successive Dominion Handicap. His 17th successive win, it gave him millionaire status and Tim and Anthony Butt a remarkable sixth straight win in NZ's premier trotting event. Plans were tabled at this stage for him to head to Europe the following April with a crack at the Elitlopp in view.

In the interim, Take A Moment won his second Bill Collins Mile (December 2003) – his 18th consecutive win in a 14 month period! Then, in his final Australian race appearance, he was a battling third after racing in "the death" in the Australian Trotting Grand Prix as star Victorian trotting mare Sumthingaboutmaori scored handsomely.

A 4-length win in the National Trot in Auckland a week later saw Take A Moment accept an invitation to Geelong on January 24. Time-trialing against Scotch Notch's Australian time-trial record of 1:55.6, he managed only 1:57.2. It transpired that he had strained a branch of his off-hind suspensory, and plans to race in the upcoming 2004 Melbourne Inter Dominions and then go to Europe were abandoned.

Take A Moment was not seen in action again until the 2005 Auckland Inter Dominions. Failing to pay a dividend, it seemed age and the rigours of racing had finally caught up with him.

Back in Canterbury, however, Take A Moment notched the 39th win of his career under preferential-draw conditions at Addington that May. Fifth, given every chance, in the Ordeal Cup at Addington the following September was the final race appearance of his wonderful career. In October, 2005, his retirement was announced.

Known as "Flash", Take A Moment raced in Tim Butt's colours of maroon and cream diagonal stripes with cream sleeves. He still has on the Inter Dominion record books his 2:01.8 mile rate for 2600m and 2:03.2 for 3100m, both achieved at Albion Park in 2001. He began retirement sharing a paddock with Lyell Creek NZ on Anthony's farm at Templeton, a mere half-mile from where they trained at Tim's stables. Anthony and Karen's 12-year-old daughter Kimberley broke the pair to saddle - so they were ridden around the farm occasionally – and loved it.

In late 2008, the two popular middle-aged millionaire standardbreds moved to Lindsay Kerslake's property – making it easier for interested enthusiasts to visit and reminisce about their combined 95 winning performances.


main races/honours
won by take a moment nz
Inter Dominion Championship Trotters Grand Final
(2)
2001, 2003
Dominion Trotter Handicap
(3)
2001, 2002, 2003
NZ Trotting Championship
(1)
2001
NZ National Trot
(2)
2002, 2003
NZ Trotting Free-for-all
(2)
2002, 2003
Bill Collins Mile
(2)
2002, 2003
Australian Trotting Grand Prix
(1)
2002
Rowe Cup
(1)
2003
HONOURS
NZ Harness Horse of the Year
(1)
2003
NZ Trotter of the Year
(2)
2003, 2004
Australasian Trotters Grand Circuit Champion
(2)
2003, 2004
race footage
2003 Trotting Final
Race footage copyright © NZ Trackside Tape Sales
2001 Trotting Final
Race footage courtesy Albion Park Harness Racing Club
pedigree
Pedigree - Take A Moment NZ