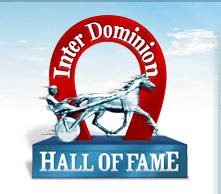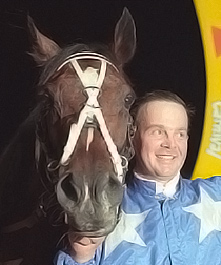 Pride of Petite and Mark Purdon after their 1996 Trotting Championship win, Moonee Valley


copyright © Geoff Ampt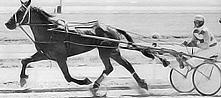 Petite Evander stretching out for Frank Weaver Jnr at Alexandra Park. She became Australasia's biggest trotting winner


photo courtesy Ron Risman's "Harness Heroes"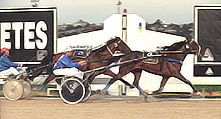 Pride of Petite and Mark Purdon take out the 1996 VL Dullard Cup at Moonee Valley from Wagon Apollo (Graeme Lang)


copyright Geoff Ampt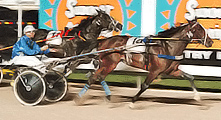 Mark Purdon and Pride of Petite win the 1996 Trotting Championship, Moonee Valley, ahead of Chiola Cola (NZ) (SD Hayes)


photo courtesy Harness Racing Victoria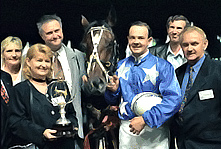 After the victory – Pride Of Petite, Mark Purdon & connections at the 1996 presentation ceremony


copyright © Geoff Ampt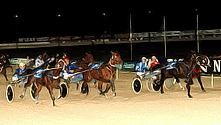 Back-to-back Inter Dominion wins - Mark Purdon and Pride Of Petite surge up the straight on the outside to win the 1997 Trotting Championship in a close finish from Wagon Apollo.


copyright © Atkins Photography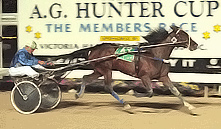 Tony Herlihy and Pride Of Petite win their heat of the 1998 Australasian Trotting Ch'ship, Moonee Valley


copyright © Geoff Ampt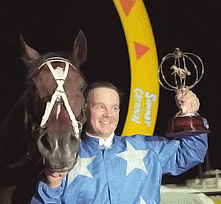 DUAL INTER DOMINION TROTTING CHAMPION (TR1:57.4)
Back-to-back Inter Dominion Trotting Grand Final victories in Melbourne (1996) and Adelaide (1997) capped the illustrious career of Pride Of Petite. Though American-bred, the daughter of Royal Prestige (US) and outstanding New Zealand trotting mare Petite Evander (NZ), apart from a very brief Scandinavian campaign, raced extensively and successfully on both sides of the Tasman Sea. She compiled a career of 142 starts for 35 wins, 26 seconds and 16 thirds for purses totalling $811,816.

The saga involving the wonderful careers of Petite Evander (NZ) and Pride Of Petite began in 1962, when a young Aucklander, Frank ("Snow") Weaver, attending the Hawera trots meeting purely as a punter, was offered his pick of a couple of broodmares. Weaver recalls that, then aged 20, he knew little about breeding but was aware that some of the progeny of Light Brigade USA were worth their salt, and so opted for the mare by that sire. This was the unraced Thearle (NZ). Her price was 100 pounds. Weaver had just that amount in his pocket and needed 10 pounds to get himself and Thearle (NZ) back to Auckland. So 90 pounds was agreed upon.

Weaver bred Thearle (NZ) to Great Evander, a talented dual-gaited son of the imported Single G horse Bill B (USA). This male-line, virtually extinct elsewhere in the world, has played an important role in Inter Dominion history. Most significantly, Bill B (USA) sired the crack pacer of his day, Single Direct, whose career was capped winning the 1949 Pacing Grand Final at Adelaide's Wayville Park.

From her first mating with Great Evander (NZ), Thearle (NZ) produced Light Evander – a good dual-gaited performer who won nine races for "Snow" and his father, Frank snr. They then sold him to North America, where he also performed creditably.

Eight years and four foals later, Thearle (NZ), aged 24 in 1970, to Great Evander (NZ), left Petite Evander (NZ). Showing great trotting potential, but also considerable flightiness, from a very early age, the filly was entrusted to master horsemen Roy Purdon and his then number one driver, Peter Wolfenden, to sort out. She gradually developed into a top-flight performer. Racing in New Zealand for just over three seasons – from a late 3-year-old in July, 1974, until April, 1997, she started 72 times for 21 wins and 14 placings, earning $53,485. Her victories included a New Zealand Trotting Free-for-all in national record time and the Canterbury Park Trotting Cup in a national mares' record, while in a time trial at Auckland in February, 1977, she became New Zealand's first two-minute trotting mare on home soil with a 1:59.8 mile.

The Weavers then took Petite Evander (NZ) to America, entrusting her to noted US horseman Eddie Dunnigan. Good performances at top level opened the door to Sweden and Denmark, and in Stockholm, she unluckily missed the final of the coveted Elitlopp won in 1:59.l, but won the Consolation in identical time, then was third in the Copenhagen Cup.

After trotting her fastest mile ever (1:57.2) in finishing second to American ace Green Speed at The Meadowlands in New Jersey, she won good races there and on the New York raceways of Roosevelt and Yonkers, beating all but Cold Comfort (US) in the $200,000 Roosevelt International. Overwhelmingly voted Aged Trotting Mare of the Year for 1978, she finally retired as an 11-year-old in 1981. In all she had faced the starter some 200 times for 48 wins and 64 placings for life earnings of just over $800,000.

Petite Evander (NZ) remained in the States in the care of Pennsylvanian veterinarian Nelson Wert in an arrangement that saw him and the Weavers take her alternate foals. Several were sold off and became winners, but the Weavers brought in to New Zealand the mare's 1985 Arndon (US) colt Evander's Gold USA and her 1988 Royal Prestige (US) filly Royal Petite.

Proving a very smart trotter, Evander's Gold USA won six races before injury nipped his career in the bud. He is now a successful sire, with some 60 winners by 2006, including the 2003 (Christchurch) Inter Dominion Consolation winner in Gold N Gold NZ, who also won the Trot Grandprix (2004), and the Dullard Trot Cup (2005).

Royal Petite, renamed Pride Of Petite, would prove the pick of the offspring and arguably every bit as good as her dam. Like her mother, she was slow to mature, but then flourished in extensive campaigning that saw her race from age three to 11, lining up in 142 races for 35 wins, 26 seconds, 16 thirds and earnings of $811,816.

Trained by "Snow" Weaver, mainly at the South Auckland stables administered by Mark Purdon and his right-hand man Tony Herlihy, Pride Of Petite, throughout her career, was generally driven by Mark, though Tony also savoured his share of fame and fortune with her.

When she lined up for her first Inter Dominion tilt – as a 5-year-old in Auckland in 1993 – she had won seven times from 32 starts. After finishing second in her heat on the second night, she blew out and finished last in the Grand Final. When she next appeared at this level - as a 7-year-old at Addington in 1995 - she had raced in New Zealand 58 times for 14 wins and four times for two wins on a visit to Moonee Valley. Racing solidly throughout for Mark in the Christchurch series, she was third in each of her two heats before beating all but Call Me Now NZ in the Grand Final, which was run in "soft" conditions following heavy rain.

Back at Moonee Valley the following year, Pride Of Petite warmed up for the 1996 Inter Dominion trotting series by beating Wagon Apollo in the $50,000 Inter-Colonial Trotters Mile and a week later prevailed in the Dullard Cup. Off 30 metres, she finished second to compatriate Chiola Cola NZ in her opening-night heat, then produced a fine effort to win on the second night. In the Grand Final, last at the bell starting the final lap, she mounted a great run to work around her opposition and on to a convincing victory in track-record time by three metres over Chiola Cola NZ, with Wagon Apollo third. Her mile rate of 2:04.6 bettered Fair Tally's record for the unusual distance of 3280 metres.

Less than three months later, and in response to an invitation to race against the world's best, Pride Of Petite showed up in Scandinavia, where, emulating her mother, she qualified for the final of the Elitlopp in Sweden. She didn't win on the trip, and actually had only four starts, getting closest when third in Denmark and fourth in Norway.

After racing well again back in her homeland, Pride Of Petite was readied by Mark for the defence of her Inter Dominion title – this time at Adelaide's Globe Derby Park. To have her piping-hot for her prime assignment scheduled for March 15, she was campaigned at Moonee Valley from late January (1997). She raced there five times – mainly off prohibitive handicap marks - for one win, two seconds, a third (from 50m in the Australasian Trotting Championship) and a fourth. Handicapped on 40 metres for her Inter Dominion challenge, she was third on opening night for Mark. Tony Herlihy, who had driven her in a race only once before for a third placing, then took the reins. In a great duel on the second night with the brilliant Victorian Knight Pistol, Pride Of Petite beat him narrowly, despite conceding a 40m start.

Came the 3075m Grand Final, in which US-bred NZ rep Holdonmyheart USA and Knight Pistol created a torrid pace as they tussled in the van. Wagon Apollo and Pride Of Petite stayed at the rear, their drivers obviously waiting for the other to make the first move. Still last on her own a lap out on the tight track, Pride Of Petite was finally asked by Herlihy to turn it on. Even Herlihy admitted afterward, that, still so far away on the home turn, he thought his task of winning was hopeless. Knight Pistol looked safely home, until Wagon Apollo dived at him and Pride Of Petite came on late further out. With only inches separating them, the photo showed Pride Of Petite the winner from Wagon Apollo and Knight Pistol, with Holdonmyheart USA close up, fourth.

Becoming the big event's only back-to-back winner, Pride Of Petite was far from finished. She returned to Moonee Valley in February, 1998, preparing for her attempt to round out an Inter Dominion Grand Final treble at the upcoming series in Sydney. First-up in Melbourne, she brilliantly won the Bill Collins Mile in 2:00.7, then was third in the Dullard Cup (won by Herlihy, driving her talented stablemate Buster Hanover NZ). Herlihy and Pride Of Petite then teamed to win her heat of the Australian Trotting Championship from 50m, while, from the same handicap, Mark drove her to beat all but Buster Hanover NZ in the Final of that feature.

Off 35 metres at Harold Park, Pride Of Petite could manage only sixth on opening night, then third in the second round. Herlihy had better luck, winning on both nights with Buster Hanover NZ to earn outright Grand Final favouritism for the tough 7-year-old. Understandably sticking with "Buster" for the Final, Herlihy got him home a convincing winner, which marked back-to-back triumphs in the big event in Sydney, as he had scored there with Diamond Field NZ four years earlier. Pride Of Petite was far from disgraced finishing fourth in the hands of her trainer. It was her final Australian appearance; but she was not quite done yet.

A remarkable sixth appearance at Inter Dominion level came in Auckland's all-mobile series in March, 1999. Pride Of Petite, with Mark in the sulky, followed a third to Mountain Gold NZ and Special Force NZ at 2700m on the first night by winning her mile heat on the second night. The final win of her great career, it was accomplished in Inter Dominion record time of 1:57.4. In her final race, she chased in Special Force NZ, Africa NZ and Noopy Kiosk, and extended her Grand Final record to 14th, 2nd, 1st, 1st, 4th and 4th.

Bred regularly to Sundon USA, by end 2011 Pride Of Petite had left "Snow" Weaver eight foals, four of whom have raced, and won, with Petite Sunrise NZ being the best performer (4 wins).



main races/honours
won by PRIDE OF PETITE
Inter Dominion Trotting Championship Grand Final
(2)
1996, 1997
Inter Dominion Trotting Championship Heats
(3)
1996, 1997, 1998
NZ National Trot
(3)
1992, 1997, 1999
V.L.Dullard Cup
(1)
1996
Victoria Inter Colonial Mile
(1)
1996
City of Sails Free-for-all
(2)
1997, 1998
Bill Collins Mile
(1)
1998
HONOURS
4YO NZ Trotting Mare of Year
(2)
1991, 1992
NZ Aged Trotting Mare of the Year
(3)
1994/95, 1995/96, 1996/97
NZ Trotter of the Year
(1)
1996/97
race footage

1997 Trotting Final
Race footage copyright © John Rothe
1996 Trotting Final
Race footage courtesy Harness Racing Victoria and Provideo
pedigree

Pedigree - Pride Of Petite USA