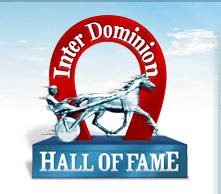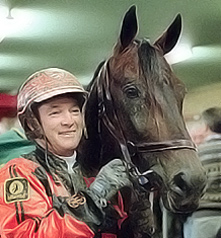 Our Sir Vancelot and Brian Hancock after their 1998 Ballarat Cup victory
copyright

©

Gary Wild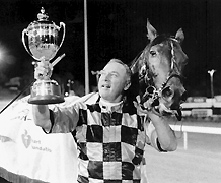 1997 WA Pacing Cup – Brian Hancock holds the trophy high
copyright

©

William Crabb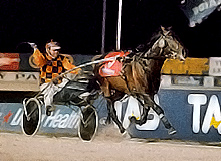 Our Sir Vancelot NZ and Brian Hancock head to the finish line in the 1997 Pacing Championship, Globe Derby
copyright

©

Atkins Photography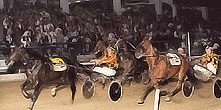 1997 Miracle Mile - Our Sir Vancelot and driver Harry James hold off Quantum Lobell (MA Tracey) on their heels


photo courtesy NSW Harness Racing Club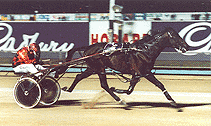 Our Sir Vancelot and Brian Hancock take out their 2nd Inter Dominion at Hobart in 1998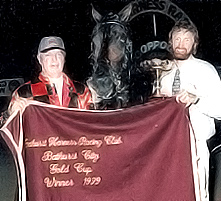 1999 Bathurst City Gold Cup - Our Sir Vancelot, Brian Hancock and Trevor Allamby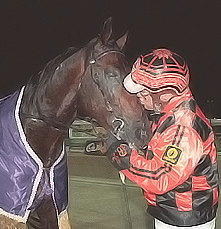 Our Sir Vancelot and Brian Hancock after their 1998 Inter Dominion win
copyright

©

Geoff Ampt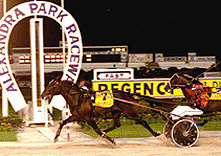 Third Inter Dominion win – Our Sir Vancelot reaches the finishing line ahead of Iraklis NZ (RT May) and Bogan Fella (M Purdon) – Auckland, NZ, 1999
copyright

©

Race Images Palmerston North Ltd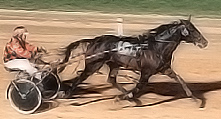 photo courtesy Harness Racing Victoria



CHAMPION PACER - TRIPLE INTER DOMINION WINNER (1:55.4MS)
"We can measure the stature of a champion by the length of time he remains one". John Hervey one of the great authors of harness racing history in the 20th century.

Using this yardstick as a measure of perfection or selection, Our Sir Vancelot outclasses all those that have appeared so far in Australia and New Zealand and he is regarded as one of the best Australasian standardbreds of all time. Winner of three successive top-class Inter Dominion Pacing Championships in 1997-98-99 and numerous Grand Circuit and Group One events, Our Sir Vancelot triumphed over the best pacers of Australia and New Zealand on their own terms for virtually three years and the stallion set records that will take a very long time to equal, let alone beat.

Foaled in New Zealand in 1990 by imported Vance Hanover USA (by Albatross) from Teeny Teeny, the stallion was bred by the Allamby family of Victoria Farm, Junee, NSW, who went to considerable effort in their breeding activities.

Semen transportation was not sanctioned prior to 1989, and Teeny Teeny was sent to Auckland NZ for service, initially by Smooth Fella USA and then Soky's Atom USA. As a last choice before returning the mare to Junee the Allamby family consulted with leading trainer/driver Brian Hancock and selected Vance Hanover USA at $8000 service fee. This was a wise choice for his bloodlines matched perfectly those of the mare Teeny Teeny against the outcross North American bloodlines available through Vance Hanover USA.

Teeny Teeny P.3,2:04.9; 2:03 a winner of 9 races was a product mix of old American bloodlines through her sire Overtrick USA (by Solicitor) and old Australian breeding which traced maternally to the Foundation Mare Our Nell foaled in the mid 1880's by the imported Von Moltke Junior USA.

Our Sir Vancelot is a 7th generation descendant of Our Nell - each one of his maternal line (six of whom were winners) being a polar outcross to the preceding outcrosses. The strike rate of the dams in the maternal pedigree has been extremely effective, with 37 winners from 62 foals so far and this does not take into account other successful offshoots of the family.

As a yearling, Our Sir Vancelot was shipped to NSW in 1991 and given to the south coast located Brian Hancock a long term successful trainer/driver for the Allamby family. Their association dated back to 1965 when Hancock commenced training Teeny Rena - the dam of Teeny Teeny.

Our Sir Vancelot commenced racing as a three year old and won his first eight races, including two at Harold Park, and much was expected of him. However, he failed in his next three races before rounding off the season with another three wins totalling eleven wins from 15 starts.

At four year old Our Sir Vancelot had inconsistent results, winning only three races from thirteen starts whilst as a five year old he improved to win seven of fifteen starts. However, Brian Hancock must have had some inkling of the latent ability of Our Sir Vancelot for they travelled to Moonee Valley for two wins and later in the season he was raced for one heat win in the 1996 Inter Dominion Championships in Perth before failing in the Grand Final.

At this stage of his career Our Sir Vancelot had won twenty one races and had been placed thirteen times from forty seven starts for $128,366 but little did the owners realize that Our Sir Vancelot was to win another two million dollars over the next three seasons' racing.

In sixteen starts as a six year old Our Sir Vancelot won nine races and took four placings for $643,306. Highlights were wins in The Legends Mile at Moonee Valley, two Qantas Sprints which included his lifetime record of 1:55.4, the 1997 Western Australian Cup, and the Treuer Memorial. He also won the most important prize of Australasian harness racing - his first Inter Dominion Championship Grand Final in a close finish at Globe Derby Park, Adelaide, SA.

After a spell, Our Sir Vancelot returned in October 1997 and commenced his build up to defend his Inter Dominion Championship at Hobart, Tasmania in March 1998; this presented some problems because of the circumference of the small Hobart Showgrounds track.

In four successive Grand Circuit races Our Sir Vancelot won the Miracle Mile, the Treuer Memorial, plus the S.A. and W.A. Cups before going on to Hobart. There he captured two heats and the Grand Final, more easily than his win in the same race at Adelaide the previous year - the expected obstacle of a small track presented little problem to Our Sir Vancelot.

Rested again immediately after the Hobart win, Our Sir Vancelot came back in October 1998 to win the Australian Pacing Championship at Albion Park, The Newcastle Mile, the Legends and the Ballarat Cup before a succession of placings in the Tasmanian Championship, SA Cup and WA Cup.

Before going on to Auckland, NZ, to achieve the impossible dream of winning three successive Inter Dominion Championships, Our Sir Vancelot had a brief spell after running second at Gloucester Park, Perth, on 22nd January. He travelled to Auckland for his first heat on 5th March 1999 where the opposite way of going and local New Zealand champions were expected to overcome the aging champion who appeared to have lost his edge.

After winning a heat, and the field of contestants losing some of its notable New Zealand stars, Our Sir Vancelot was locked in by New Zealand pacers in the third heat and his sixth placing meant he only just qualified for the Grand Final on a count back. Hancock had also qualified Quantum Lobell and for the fourth consecutive year he had two pacers for the Grand Final.

In the Grand Final the New Zealand horses on form seemed to have a mortgage on the race but as usual in the Inter Dominions the attrition rate helped to place the outcome in great confusion. The great New Zealand pacer Iraklis was believed to be the greatest threat to all the Australian pacers that qualified particularly Our Sir Vancelot who had drawn outside Iraklis.

However, with Hancock's driving skills, Our Sir Vancelot overcame age (nearly 9), distance (untried over 3200 metres), and challenges from several horses to lead all the way and defeat Iraklis. His victory created a new record of three successive wins in Grand Finals of the Inter Dominion Championships.

After the Inter Dominion Carnival Hancock and Our Sir Vancelot returned to race at Bathurst, NSW, on 27th March where in his last ever race he won the Bathurst City Gold Cup.

Our Sir Vancelot was bred by VL & SL Allamby and raced by ML (Maree) Allamby, T (Tracey) Harty & RL (Renee) Hancock - a triumph for Junee harness racing. His impressive record shows career prizemoney of $2,197,990, with 47 wins and 26 placings from 97 starts, he was twice Australian Grand Circuit champion (1997, 1998) and his significant achievements were recognised with three Australian Harness Horse of the Year awards (1997, 1998, 1999). He went to stud in New Zealand for two seasons after his retirement, and then returned to Australia. He sired some very good winners from his initial seasons in New Zealand and has enjoyed good patronage in his new surroundings at Shepparton, Victoria.

By mid-2009, his progeny in Australia numbered 590, with 160 winners and over $4.5m prizemoney in Australian races – strong performers included Triple Vance, Mesmerising, Just Pretend, Fox Street and Touch Me Toes.



main races/honours
won by OUR SIR VANCELOT NZ
Inter Dominion Championship Grand Final
(3)
1997, 1998, 1999
Inter Dominion Championship Heats
(5)
1996 (1), 1997 (1), 1998 (2), 1999 (1)
Qantas Sprints
(2)
1996 (2)
MH Treuer Memorial
(2)
1996, 1997
The Legends Mile
(2)
1996, 1998
Miracle Mile
(1)
1997
Western Australian Cup
(2)
1997, 1998
South Australian Cup
(1)
1998
Australian Pacing Championship
(1)
1998
Newcastle Mile
(1)
1998
Ballarat Cup
(1)
1998
HONOURS
Australian Grand Circuit Champion
(2)
1997, 1998
Australian Harness Horse of the Year
(3)
1997, 1998, 1999
seasonal career

AGE
STARTS
WINS
PLACINGS
STAKEMONEY
BEST TIME
3
15
11
3
$35,239
1:58
4
14
3
6
$27,279
2:01
5
18
7
4
$65,848
1:56.1
6
16
9
4
$643,306
1:55.4
7
17
11
3
$863,504
1:55.5
8
13 AUST
4
3
$297,189
1:55.8
4 NZ
2
0
$265,625
97
47
26
$2,197,990
1:55.4
race footage
1999 Pacing Final
Race footage copyright © NZ Trackside Tape Sales
1998 Pacing Final
Race footage courtesy EVD Pty Ltd
1997 Pacing Final
Race footage copyright © John Rothe
pedigree
Pedigree - Our Sir Vancelot NZ