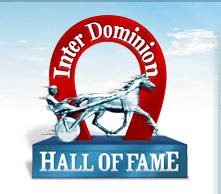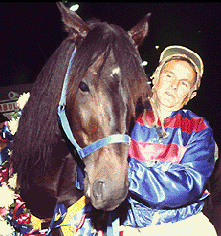 Tony Turnbull and Hondo Grattan after winning the 1973 Pacing Championship
copyright

©

Clyde Lett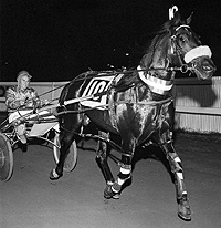 Hondo Grattan and Tony Turnbull
copyright

©

Gene Lett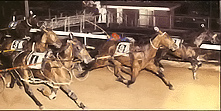 Hondo Grattan (on the rail) races for the finishing line ahead of Royal Ascot and Glamour Chief to win the 1973 Pacing Championship, Harold Park.
copyright

©

Clyde Lett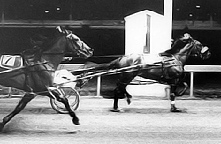 1974 Pacing Final, Gloucester Park - Hondo Grattan crosses the finishing line well clear of Adios Victor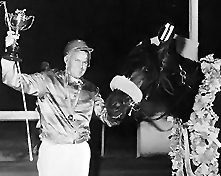 Tony Turnbull holds the trophy high after winning his second Inter Dominion Final with Hondo Grattan


photo courtesy Ron Bisman and Taylor Strong's "The Inter Dominions – Saga of the Champions (1977-78)"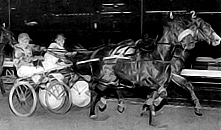 Hondo Grattan and Paleface Adios in a tight contest in the 1974 Miracle Mile, Harold Park
copyright

©

Gene Lett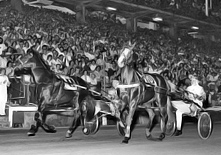 Hondo Grattan and Paleface Adios parading together


copyright © Gene Lett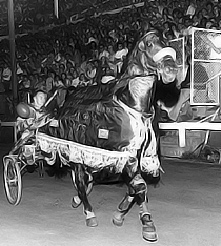 Parading after the 1973 Pacing Championship, Harold Park


copyright © Gene Lett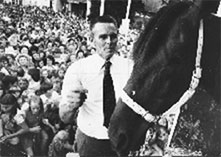 Hondo Grattan received a reception outside the Bathurst Civic Centre with trainer/driver/part owner Tony Turnbull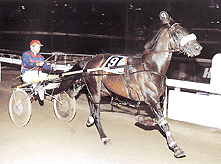 WINNER OF TWO INTER DOMINION PACING CHAMPIONSHIPS (P.1:59)
Few harness horses had achieved that mystique status of "folk hero" before the emergence of a smallish standout pacer from mid west NSW in the early 1970's. What made Hondo Grattan even more unique was that he was quite probably the only standardbred at that time to have had a song composed about his deeds on the racetrack. Much later his great rival Paleface Adios also had a song written about him.

Bred at Tarana near Bathurst and of a North American/New Zealand cross of breeding cultures, Hondo Grattan had that irresistible and mysterious combination of determination to win and not give in - elements that endeared him to the public and harness racing participants alike.

Foaled a year later was another much loved pacer, the flashy chestnut Paleface Adios P.1:57.6 from the Riverina region of south western NSW. Their clashes at tracks throughout Australia thrilled patrons everywhere but it was to be several years before the two giants of harness racing were actually of an open age to compete against each other.

Hondo Grattan also had a trainer/driver who had the same game characteristics and who was noted for his cheeky larrikin style of response in nearly all circumstances. Tony (AD) Turnbull was born in 1930 on the family farm called "Greenvale" at The Lagoon near Perthville, a few miles from Bathurst, and learned to drive as a teenager on his uncle's (AJ Turnbull) horses. Wins came on country tracks and at Harold Park meetings prior to night trotting, and he later drove his father's (WG Turnbull) horses around the Western Districts.

The long road to success started with the Turnbulls' 1950 purchase of Loyal Raider P.2:14.6 bred by Edgar Tatlow of Hagley in northern Tasmania. The stallion was a great unhoppled pacer around the country areas, winning 24 races and who sired seventy six individual winners. These included for the Turnbull family the classic winning Miniature Bill P.2:01.4ms and First Kiss P.2:05.2ss an Inter Dominion heat winner in the famous 1960 series won by Caduceus.

During the 1960's Bill (BS) and Bob (RS) Webb were clients of Tony Turnbull and interested in having a brood mare or two at their sheep and cattle farm at Tarana, a small railway town in the cent

re

of the Lithgow, Bathurst, Oberon triangle. The back road from Tarana finishes further west near The Lagoon where the Turnbulls are situated.

At a dispersal sale of owner/trainer/driver Jim Caffyn at Granville in 1966, Tony Turnbull purchased the New Zealand bred mare Lola Grattan NZ, foaled in 1954 and with at least three wins in Victoria (best rating 2:14). At the sale there was nothing in the maternal family of any note for the auctioneer to enthuse over and the mare was knocked down for 60 guineas. Although promising earlier in her career and previously sold for 500 guineas, deteriorating form and a lowly maternal pedigree meant the mare had trouble finding a buyer.

Tony Turnbull was interested because although he did not know much about her sire, the Italian bred trotter Loreto, he knew all about the sire of her dam Grattan Loyal USA. He was a noted brood mare sire who sired Attain NZ, the dam of his earlier good pacer and sire Loyal Raider, and five metropolitan winners of note.

Strangely, although the maternal family (Molly Reilly) of Lola Grattan NZ was not of much account to that time the family started to uplift in the 1960's and by 2007 had over twenty five in the 2.00 list including Nero's Knight P.1:53.6.

Lola Grattan NZ was served firstly by Group Nine P.2:08.2ss, one of the Turnbull owned pacers, and her foal was Lazy Two P.2:07.2ss a one eyed winner of ten races.

Her second foal – Hondo Grattan - a brown colt to Hondo Hanover USA, arrived on 6/9/1968 and Lola Grattan NZ went on to produce seven foals in total, all of whom raced, six of them winning races for the Webb Brothers. An excellent effort for an unwanted mare.

Hondo Hanover USA P.1:59.4 owned by Martin Tananbaum Managing Director of Yonkers Raceway and one of North America's finest harness racing entrepreneurs, was leased by brothers Tony and Joe Turnbull in 1967. The stallion was by Adios which was the main requirement of the Turnbulls, and his best attribute was as an outcross sire for the Turnbulls' and their clients' mares including Lola Grattan NZ.

Showing speed and good manners on breaking in as a yearling on the home track at The Lagoon, Hondo Grattan won his first race as a two year old at Penrith in May 1971, but in four subsequent races at Harold Park he found the other colts far more experienced. However, he ran second in a heat of the Challenge Stakes to Tuapeka's Garry, and finished up midfield in the Final to the champion two year old Nicotine Prince who won in 2:00.4 and with whom Hondo Grattan had many clashes in the following years.

Resuming as a three year old in September 1971 Hondo Grattan opened with eight straight wins including one at Harold Park, plus a heat and final of the Dress Circle Pace at Bathurst and Penrith respectively in 2:08ss over 12 furlongs. After a second to Jason King at Harold Park, Hondo Hanover put together another eight wins straight which included a heat and final of the Sires Produce Stakes at Harold Park, the WDTA Cup at Bathurst, the Hurricane Flying Mile at Hawkesbury, and the Western Districts Derby at Canowindra.

For the balance of this season Hondo Grattan showed indifferent form, winning a heat of the NSW Derby but going down in 6th placing to Bold Biami in the final. He then won the Country Three Year Old Championship at Harold Park. This season was not easy for Hondo Grattan, always up against colts of the calibre of Jason King, Adios Victor, Mitchell Victory and King Frost. Nevertheless he had seventeen wins and one placing in twenty one starts, and his best winning time was 2:02.6 over a mile.

Setting Hondo Grattan for the 1973 Inter Dominion Championship in February/March at Harold Park as a four year old, Tony Turnbull was ambitious according to the media as very few four year olds had won the Grand Final. However, Tony and the Webb Brothers were determined to give it a go.

Hondo Grattan's formline leading up to the Championships had patches of brilliance interspersed with more mediocre runs than was usual. Included in his ordinary efforts were defeats by Jason King, Tuapeka's Garry, Local Ayr, Nicotine Prince, Bold Biami and Adios Victor, all of whom had vied with him from his two year old days. His record was five wins from thirteen starts prior to the Championships and three of those wins were at country tracks.

However, the Inter Dominion Championship was a different proposition with Hondo Grattan's form improving dramatically to win three heats in 2:06.6ss, 2:06.6ss and 2:08.8ss over a week of rainy weather that forced postponements. With barrier two in the Final, Hondo Grattan started an 11/4 favo

u

rite and was manouvered to race outside the leader Jason King until the last 200 yards when Royal Ascot sprinted and went half a length in front until Hondo Grattan fought back to win by a head on the line.

It was this race and the courage he showed that triggered an outburst of public sentimentality for Hondo Grattan now called the "Bathurst Bulldog" or "Little Hondo" and for the rest of his racing life the stallion was the hero of the harness racing public everywhere he raced.

For the balance of the season Hondo Grattan confined his racing to Harold Park, winning the 4YO Futurity plus a heat and final of the Lord Mayor's Cup from 12 yards. From 30 yards, tough opposition found him fourth to Mitchell Victory in the 3 & 4YO Super Stars Pace in his last race of the season on 4/5/73 in which Paleface Adios was second.

From 22 starts Hondo Grattan had 12 wins and four placings for $66,326, becoming the Leading Stakemoney earner for the season, whilst his lifetime earnings had crept up to $81,562.

Hondo Grattan started the 1973-74 season with a win at Lithgow, but took some time to get back to his high standard of racing, probably because the handicapper was now placing the stallion on 20 metres behind in his racing at Harold Park. Breaking the ice in November, Hondo Grattan won three races at Harold Park including a FFA over 2350 metres in which he met and defeated Paleface Adios into 6th place for the first time. In an Invitation Pace at Harold Park a week later, Hondo Grattan, this time from 15 metres, again defeated Paleface Adios over 2700 metres, with Paleface Adios closer in second place.

On 15/12/73 Hondo Grattan time trialled at Bathurst recording 1:59.5 and then headed to Melbourne for the Hunter Cup Carnival. On the first night of the Carnival on 29/12/73 Hondo Grattan finished third in a FFA won by Monara and then won a FFA on the second night before finishing 5th to Monara in the Hunter Cup. It was noted that for the first time Paleface Adios had finished 4th, just in front of Hondo Grattan.

The 1974 Inter Dominion Championship was held in Perth during the harsh summer heat of February but this did not affect Hondo Grattan who had been handicapped from 15 metres in all heats and in the Grand Final providing he qualified. A first heat win over 2600 metres, an 8th in the second heat and then dead heat for 4th with Paleface Adios in the final heat meant qualifying by a close half point. Hondo Grattan and Tony Turnbull had something to prove to the local media who were severely critical of Turnbull's driving tactics, but fate and luck had a big say in the running of the Grand Final.

Getting away brilliantly from 15 metres and out wide Hondo Grattan avoided the biggest crash in Inter Dominion history - Just Too Good galloped and fell with Paleface Adios colliding and Welcome Advice, Local Product, Haddock and Royal Gaze seemingly and hopelessly out of the race. Getting into a good position after the melee, Hondo Grattan closed in on the front markers and went on to win hard driven from Adios Victor and Bret Armagh - the latter being deprived of his third placing when a routine swab proved positive.

The stallion was given a hero's reception by the local Gloucester Park patrons who recognized an all time great that had now won the Inter Dominion twice in a row and was poised to become the greatest stakemoney winner in Australian harness racing history being only $14,000 behind Welcome Advice's record Australian earnings.

His triumph was also celebrated with a civic reception on his return to hometown Bathurst, where a telegram from the then Premier, Sir Robert Askin, congratulated "a great champion from a champion city". In late 1974, further acknowledgement of their joint achievements came when the ABC Television Network featured Hondo Grattan and the Turnbull family in an episode of the popular TV series "A Big Country".

Returning to race in the 1974 Miracle Mile at Harold Park, both Hondo Grattan and Paleface Adios had something to prove. However, Hondo Grattan won a spine tingling contest in possibly the greatest finish ever in Miracle Miles and further enhanced his public recognition. His season tally was 13 wins and placings from 31 starts, and lifetime earnings moved to $160,088.

Resuming with a win at Bathurst on 16/11/74 Hondo Grattan took another nine races before success at Dubbo in a FFA in January 1975. Next was New Zealand for the 1975 Inter Dominion Championships in Auckland, where Young Quinn was invincible. Hondo Grattan, handicapped off 25 metres, ran 5th, 3rd and 2nd in his heats and finished 6th in the Grand Final.

Young Quinn continued his dominance, winning the Miracle Mile at Harold Park where Hondo Grattan finished 4th and Paleface Adios 5th. For the remainder of the season Hondo Grattan had eleven starts for seven wins and four placings from handicap marks of 25 and 30 metres to become the first pacer to pass $200,000 in prizemoney in Australia.

As a seven year old in the 1975-76 season Hondo Grattan showed signs of tendon trouble and after 14 starts for 6 wins and 6 placings the pacer was retired following his last start on 17/4/76 at Bathurst.

Recording 58 wins and 35 placings from 119 starts for $215,402, Hondo Grattan retired with a long list of credits including two Inter Dominion Grand Finals from four starts and a Miracle Mile, plus numerous Cups, FFA's and Invitation races. He was NSW Horse of the Year in 1973 and 1974 in the years before the inaugural Australian Horse of the Year and which he surely would have won.

Hondo Grattan had the better of most of his arch rivals but Paleface Adios lasted longer and finished ahead 10/8 in their clashes. In their last three contests at Harold Park at the end of Hondo Grattan's career, Paleface Adios, a year younger, had the better of him winning their three races including a revengeful 1976 Miracle Mile.

Sad to say Hondo Grattan, a staying type, did not receive the stud patronage he deserved. He stood at Loyal Stud for eighteen seasons for fifty six individual winners including two in 2:00, but he did not sire anything anywhere near his own ability.

Long passed into history, Hondo Grattan was a true gritty champion and a hero to the public throughout Australia.


major races/honours
won by HONDO GRATTAN NZ
3YO
1971 Heat & Final Dress Circle Pace Penrith NSW
1971 Heat & Final Sires Produce Stakes Harold Park NSW
1972 WDTA Cup Bathurst NSW
1972 Hurricane Flying Mile Hawkesbury NSW
1972 Western Districts Derby Canowindra NSW
1972 Country 3yo Championship Harold Park NSW
4YO
1973 Heats (3) and Grand Final Inter Dominion Pacing Championship Harold Park NSW (Group 1)
1973 4YO Futurity Harold Park NSW
1973 Heat & Final Lord Mayors Cup Harold Park NSW (Group 1)
5YO
1973 TT1:59.5 Bathurst NSW
1974 Heat & Grand Final Inter Dominion Pacing Championship Gloucester Park WA (Group 1)
1974 Miracle Mile Harold Park NSW (Group 1)
6YO
1975 Heat & Final Lord Mayors Cup Harold Park NSW (Group 1)
7YO
1976 Hurricane Stakes Harold Park NSW
seasonal career

AGE
STARTS
WINS
PLACINGS
STAKEMONEY
BEST TIME
2
5
1
2
$730
2:10.2
3
21
17
1
$14,506
2:02.6
4
22
12
4
$66,326
2:00.4
5
31
13
11
$78,526
1:59.0
6
26
9
11
$40,444
2:04.9
7
14
6
6
$14,900
2:04.2
119
58
35
$215,432
1:59.0
race footage
1974 Pacing Final
Race footage courtesy Mike Dickinson
1973 Pacing Final
Race footage courtesy Mike Dickinson
pedigree
Pedigree - Hondo Grattan