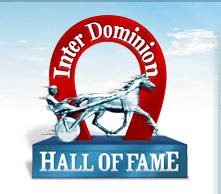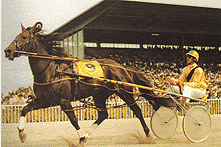 photo courtesy Max Agnew's "The Australian Harness Horse

"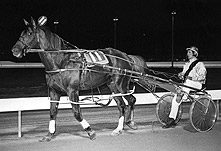 Gammalite and driver W.B. Clarke return to scale after winning the 1980 SA Derby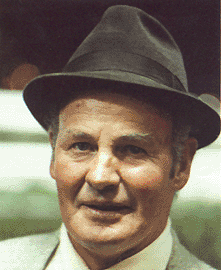 Leo O'Connor – Owner-Trainer of Gammalite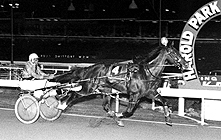 Gammalite wins the 1983 Harold Park Cup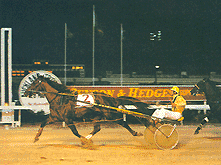 Gammalite wins the 1983 Inter Dominion Final in Auckland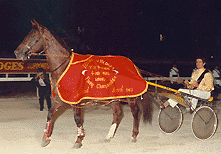 Gammalite & W.B. Clarke proudly parade the 1983 Inter Dominion rug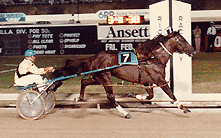 Gammalite finishes well ahead of Black Irish and Dallas Brigade to win the 1984 Fremantle Cup


copyright © Paceway Photos, WA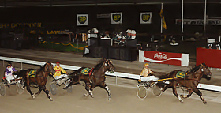 Gammalite nears the finishing line to win the 1984 Grand Final, with Thor Lobell 2nd and Bundanoon 3rd.


copyright © Atkins Photography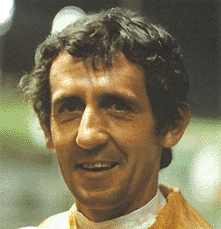 Bruce Clarke – Gammalite's regular driver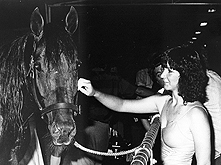 TWICE WINNER OF INTER DOMINION PACING CHAMPIONSHIP
(P.2,2:06; 3,2:02.6; TT1:55.8)
Bred, trained and raced by Leo and Maureen O'Connor of Terang, Victoria, Gammalite was foaled in 1976 by Australia's Leading Sire Thor Hanover USA (F1959) P.1.57.8 from High Valley (F1960), a mare linebred to Peter the Great through mares by Intangible USA, Pilade ITALY, and Peerless Peter.

These mares were links in the breeding chain back to Tattle (F1942) by Walla Walla P.2:02.5 from the New Zealand brood mare Pottapiana. Tattle and her first foal at foot by Peerless Peter, was the highest priced mare sold at auction in 1948 for 550 guineas to EO Henke of Sheep Hills, Victoria, by the Estate of the late Les Martin of Dalton, NSW, breeder/owner and trainer/driver of the famous Walla Walla.

Tattle was a full sister to five winners of note including Centre Fire and Air Ace which were sold at the same auction for 2100 and 925 guineas respectively-astounding prices for those days when night trotting had yet to come to NSW.

Taken to his stud farm at Sheep Hills in Victoria by Henke where he stood the stallion Grand Scott, Tattle did not produce again until 1951 when she foaled Pay Load P.2:08.5 to that stallion. By 1959 Pay Load had become one of Victoria's best pacers of that time winning the AG Hunter Cup among other good races.

The Peerless Peter filly foal at foot from Tattle was called Hightalk and although she did not race her siblings and their subsequent produce and offshoots later formed a large part of Henke's band of brood mares.

Two generations later in the maternal family, High Valley (F1960) by Intangible USA-High Pilade) was sold after Henke bred two foals from her, to Kevin O'Connor of Terang who bred three foals and then onsold High Valley to his brother Leo O'Connor for 450 dollars. Future events showed the purchase was a bargain, for already and unknowingly to Henke and the O'Connors, her earlier foals were showing much promise. Overall, High Valley produced 13 foals of whom twelve were winners including nine which won at three years of age, and in 1982 and 1983 she was voted the Australian Brood Mare of the Year.

The various owners of High Valley had realized very early that the mare needed outcross sires over her line bred pedigree and so Adios line stallions were chosen in all but one of High Valley's thirteen foals.

Among the best of Gammalite's siblings were Alphalite P.2:06.2 winner of twenty three races, including the 1974 Victoria Derby and the Kilmore and Mildura Cups. He also qualified for the Grand Final of the 1976 Inter Dominion Championship won by Carclew. Other notable siblings included Amative (13 races), The Rogue P.2:06.2 (22 races), Betalite P.2:01.7 (15 races), and Omega Valley P.2:03 (12 races).

Leo O'Connor born 1928 was the owner of a small farm near Glenormiston about 12 kilometres from Terang. And just after the 1983 Inter Dominion he is quoted as saying that "450 dollars (for the mare High Valley) was a lot of money for a bloke who did not have any" and "turned an old battler into a comfortable old farmer". Leo and Maureen who reared eight children said that Gammalite was the real provider for the children's education, and enabled the whole family to see Australia, New Zealand and further afield.

Up to the foaling of Gammalite in 1976, Leo O'Connor and previous owners of High Valley had sold each of her foals as yearlings, but Leo kept Gammalite, sensing perhaps that the colt had the essence of greatness about him.

O'Connor realized very quickly on breaking in that the colt had the makings of a great pacer and speed came along so quickly that Gammalite was put into racing at barely two years of age. However, O'Connor was to say much later that Gammalite did not know what to do with his speed until his three year old days. Unplaced in two of his first three starts, Gammalite then put together ten successive wins including the Victoria Breeders Plate and the Edgar Tatlow Memorial both at Moonee Valley. Gammalite was also placed in the Youthful and Sapling Stakes at Moonee Valley. The colt's season earnings from eighteen starts were $41,003 from eleven wins and 5 placings - second only in the national standings for two year olds to San Simeon, the Western Australian superstar colt.

As a three year old Gammalite travelled to WA, NSW, Qld, and SA in search of a Derby win. He took out the SA Derby, was placed 3rd in WA, 2nd in Qld and 3rd in Victoria, plus third in the Australian Derby to San Simeon in Perth. Overall his record for that season was 12 wins and 8 placings for $49,240 - his lifetime earnings after two seasons now stood at $90,243 from 23 wins and 13 placings. Except for his early starts as a two year old Gammalite was not unplaced again in all the remaining thirty five races of his two and three year old seasons, but it was not even contemplated that the colt would win another million dollars.

Gammalite was perceived to be a tough campaigner and "the one to beat". However, O'Connor noted that two of his contemporaries in San Simeon and Popular Alm would be difficult to better in the forthcoming Australian Grand Circuit races in the 1981/82 season as four year olds, whilst the old warrior Pure Steel had not lost any of his ability to stay the distance of any race. In particular he noted that Gammalite had only just beaten the improving Popular Alm in the SA Derby, but would be a vastly improved four year old.

As a four year old in the 1980-81 season Gammalite won 16 races and was placed 8 times from 29 starts for $216,765. His best wins included the 4 and 5 year old Championship and the Spring Cup at Harold Park, the Queensland Championship at Albion Park, and the Bankstown and Geelong Cups. He had stretched his successive winning and placed performances to forty eight before a fourth at Harold Park on 9/1/81 and had lifetime earnings of $307,008.

O'Connor had grander things in mind for Gammalite in the1981/82 season and after two wins and three seconds he took the stallion to New Zealand for a tilt at the New Zealand Cup meetings. Gammalite ran promisingly for a 5th in the NZ Cup, 4th in the NZ FFA and 2nd in Matson FFA. After a time trial on a wet track in 1:56.1 at Addington on 17/11/81 Gammalite returned to Australia to win the first of his four South Australian Cups in Adelaide, and the Lady Brooks Cup at Moonee Valley. He then returned to New Zealand where he won the 1982 $120,000 Auckland Cup on 12/2/82, and seemingly the reverse way of going did not affect him for he ran the two miles in a mile rate of 2:01.9.

In top form back from Auckland, Gammalite won the $100,000 1982 AG Hunter Cup over 2870 metres and the FFA Marathon over 3300 metres. Later that season Gammalite ventured to Queensland for four starts with one win and three placings including a third in the Queensland Championship. After 28 starts for the season Gammalite had earned $260,900 from fifteen wins and ten placings and had improved his reputation for toughness over all distances.

Resuming as a six year old for the 1982/83 season Gammalite's early form at Moonee Valley, Bankstown and Harold Park was patchy, with only one win and three placings from eight starts. However, when taken to warmer weather in Perth, his form picked up winning two FFA's, then the Fremantle Cup, plus two heats and the Final of the $136,000 WA Cup at Gloucester Park before returning to Harold Park and Adelaide, winning the Harold Park Cup and SA Cup respectively.

Whilst in Perth Gammalite time trialled in 1:55.8 on 31/12/ 82.

O'Connor and Gammalite had bypassed the Inter Dominion Championship at four and five year old but after a win in the Cranbourne Cup on 28/2/83 Gammalite was taken to Auckland for his first attempt at the Championship. In the field was the brilliant Popular Alm, his conqueror in a number of Australian high class races. In fact, Popular Alm had won ten of their eleven clashes to that date, but their first contest in an Inter Dominion Grand Final was to be different.

Popular Alm had won a heat in the 1982 Inter Dominion Series in Perth, running third in the Grand Final to Rhett's Law, and was an experienced pacer on the Australian left handed tracks but found the Auckland clockwise track difficult.

Gammalite had been to Auckland the previous season and was expected to have the necessary experience to handle the track well but O'Connor later said the reverse way of going did not altogether suit Gammalite. However, if Gammalite was having troubles, Popular Alm was in even worse trouble showing an inclination run out on the home turn.

Popular Alm had won a first night heat of the Championship Series in Auckland but did not win either of the remaining two heats. Still, the public, the media and the horse industry in general thought that Popular Alm had the edge on Gammalite and would possibly head off New Zealand's best pacers in the run home.

Gammalite on the other hand did not win a heat, running 2nd, 6th and 2nd, but his connections were happy with his barrier draw which would allow him to go for a position behind the leader which was expected to be Popular Alm. That is how it worked out, with Gammalite tracking Popular Alm who ran off on the home turn allowing Gammalite to come through and win fairly easily by two and a quarter lengths over Popular Alm whilst the grand New Zealand mares Armalight, Delightful Lady and Bonnie's Chance finished close up but never looked serious threats.

Gammalite finished the season with thirteen wins and twelve placings for prizemoney of $405,340, becoming the first Australian standardbred to win more than a million dollars.

In 1983/84, the seven-year old Gammalite won at Bankstown, Fairfield, Bulli and Harold Park early in the season including the Golden Mile and the Bankstown Club Cup. Heading for Perth again Gammalite missed out on the WA Cup but won the $60,000 1984 Fremantle Cup on 27/1/84 before returning to Adelaide for the 1984 Inter Dominion Championship.

Beaten on the first night by Bundanoon, Gammalite won his next two heats and then easily won the Grand Final from Thor Lobell and Bundanoon rating 2:03 for the 2650 metres. He thus became the fourth pacer to win the Inter Dominion Championship twice, and thus qualify for the Hall of Fame. Shortly afterwards Gammalite won his third South Australian Cup, the Lady Brooks Cup at Moonee Valley, and the Lord Mayors Cup at Harold Park.

Not given a break between his seven and eight year old racing seasons, Gammalite continued on to a further 24 starts for the 1984/85 season which included wins at Bankstown, Tweed Heads, and the Gold Coast. Then came his fourth win in the $100,000 SA Cup, followed by the Ballarat Cup.

O'Connor took Gammalite on a fourth tilt at racing in New Zealand in November 1984 but from three starts could manage a 7th, 6th and 11th his form being a far cry from his earlier three trips.

Trying for his third Inter Dominion Championship at Moonee Valley in 1985 he ran for two thirds and a win in the Qualifying Divisions. He managed a gallant fourth in the Grand Final but O'Connor realized that Gammalite was at the end of his racing career and retired the stallion to stud with gross earnings of $1,386,480 from 179 starts for 94 wins, 53 seconds and thirds together with eleven fourth placings. His regular driver, Bruce Clarke, partnered the champion to 65 of those wins.

Gammalite's ability to travel and still perform at his best was well demonstrated, as evidenced by Clarke: "when he won the Auckland Cup, he flew across the night before, landed in Wellington, changed planes, flew to Auckland, arrived the morning of the race and still won it. That's unthinkable, even now" (sic 2006). The champion chestnut colt was Australian Grand Circuit Champion in 1982, 1983, 1984. He won nearly every mainland Grand Circuit and Group race except the Miracle Mile in which he finished last as a 4YO in 1981 and then ran second in 1983 to his old enemy Popular Alm, beaten by 1½ metres.

Gammalite was given every chance to succeed at the stud by standing his first season at the famed Alabar Stud in 1985 at $2,000. Gammalite had sired one foal in 1979 as a two year old, but his first commercial crop came along in 1986 whilst his last came in 1998. Overall he sired 107 individual winners including six in 2:00 his best being Generator P.1:56.7 with prize-money of $252,867. By end 2006, his brood mares were the dams of some sixteen in 2:00 including Camlach P.1:56.7 winner of $367,349.

His career ended in December 2006 with his death at Terang, his hometown, at age 30, and he is buried at the entrance to Terang's Dalvui raceway. A great horse by any standard, Gammalite may have finished further back than fourth on a few occasions but he never gave up trying right to the last race of his career on 9th March, 1985 in the Inter Dominion Pacing Championships Grand Final. His record as the first Australian Standardbred to win more than $1m. is testament to that.


major races/honours
won by GAMMALITE
2YO
Breeders Plate Moonee Valley
Tatlow Memorial Moonee Valley
3YO
VHRC Cup Moonee Valley
SA Derby Globe Derby Park (Group 1)
Kilmore Guineas Vic
4YO
Australasian 4YO Championship Harold Park (Group 1)
Spring Cup Harold Park (Group 1)
Bankstown Club Cup
Geelong Opal St Vic
Geelong Cup Vic
Qld Championship Albion Park (Group 1)
5YO
SA Cup Globe Derby Park (Group 1)
Lady Brooks Cup Moonee Valley
AG Hunter Cup Moonee Valley (Group 1)
Marathon FFA Moonee Valley
Qld Championship Albion Park (Group 1)
Auckland Cup NZ (Group 1)
6YO
Fremantle Cup WA (Group 1)
WA Cup Gloucestor Park (Group 1)
Harold Park Cup Harold Park (Group 1)
SA Cup Globe Derby Park (Group 1)
Cranbourne Cup Vic
Lord Mayors Cup Harold Park (Group 1)
Inter Dominion Pacing Championship Grand Final Auckland NZ (Group 1)
7YO
Golden Mile Harold Park
Bankstown Cup NSW
Fremantle Cup WA (Group 1)
Inter Dominion Pacing Championship-2 heats Globe Derby Park (Group 1)
Inter Dominion Pacing Championship Grand Final Globe Derby Park (Group 1)
SA Cup Globe Derby Park (Group 1)
Lady Brooks Cup Globe Derby Park
Lord Mayors Cup Harold Park (Group 1)

8YO
SA Cup Globe Derby Park (Group 1)
Ballarat Cup Vic
Inter Dominion Pacing Championship Heat Moonee Valley (Group 1)
MAJOR HONOURS
Australian Grand Circuit Champion (3) 1982, 1983, 1984
Australian Harness Horse of the Year (2) 1982, 1984
SEASONAL CAREER
AGE
STARTS
WINS
PLACINGS
STAKEMONEY
BEST TIME
2
18
11
5
$41,003
2:06
3
20
12
8
$49,240
2:02.6
4
29
16
8
$215,465
2:02.6
5
28
15
10
$260,900
TT1:56.1
6
32
13
12
$405,340
TT1:55.8
7
28
19
5
$332,428
1:57.5
8
24
8
5
$82,104
2:02.3
179
94
53
$1,386,480
TT1:55.8
race footage
1984 Pacing Final
Race footage courtesy Mike Dickinson
1983 Pacing Final
Race footage courtesy Mike Dickinson
pedigree
Pedigree - Gammalite