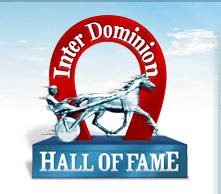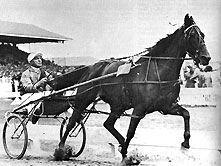 Captain Sandy and regular NZ driver, Jimmy Bryce Jnr.
photo courtesy Ron Bisman & Taylor Strong's "The Inter Dominions - A Saga of Champions (1977-78)"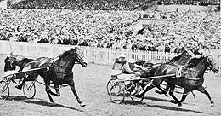 Captain Sandy and Jimmy Bryce Jnr winning the 1948 Cup
photo courtesy Max Agnew's "The Australian Harness Horse"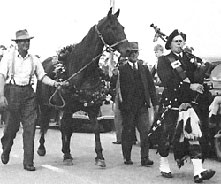 Captain Sandy being piped home on his return to Oamaru after the Cup victor

y


photo courtesy Ron Bisman's "A Salute To Trotting"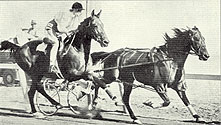 Captain Sandy in the paced exhibition mile at Snowtown, SA, 1953
copyright photo courtesy Ken Dyer, from "Globe Derby's Greatness" by VL Dullard, Second Edition 1958"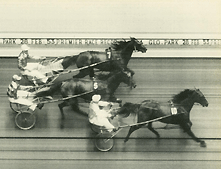 1953 Inter Dominion Championship
finish – Captain Sandy wins by
half a length from Ribands (2nd) and
Kellett (3rd), Perth 28/02/1953


Photo courtesy Western Australian Trotting Assoc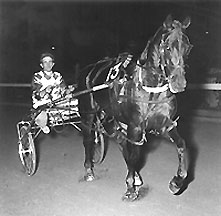 Captain Sandy (12YO) and trainer/driver Claude Tupper return to scale after winning the 1954 Easter Cup (Lord Mayor's Cup) at Harold Park
photo courtesy NSW Harness Racing Club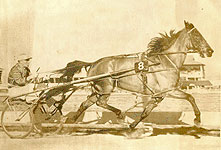 FIRST PACER TO WIN THE INTER DOMINION CHAMPIONSHIP TWICE (TT2:02.2)
The history of harness racing is saturated with rags to riches stories. A horse that overcomes a rough upbringing and passes through many handlers into old age seems to become tougher in adversity; but through it all the greatness of the horse seemingly shines like a beacon down the years as the great ravages of time sift the truly great from apparent greats.

Such a horse was Captain Sandy NZ racing in the days of standing starts and long handicaps where the handicapper never let up. He was also a much travelled horse for his time; initially moving frequently from Oamaru to Southland, Auckland, Wellington and intermediate meetings, then adding a trip to Melbourne (1950) prior to his transfer to Australia (1952) where interstate trips continued over several years.

Foaled in 1942 at Oamaru, NZ, Captain Sandy had to be bottle fed as his "reckless mother" Waikaura was likely to let her foal die. John Johnston, the owner of Captain Sandy's sire, Sandydale USA, reared the colt for owner Bob Ludemann, and Johnston later declared the little colt "was a game warrior to survive the ordeal and has had to be that all his life".

Captain Sandy was by Sandydale USA P.2:01 ¾ from Waikaura (F1931) by Guy Parrish USA tracing through mares by imported sires to the ex-Australian mare Ella G (F1897) by Vancleve USA from Rosebud by Tempest (F1885 by Childe Harold USA).

Commencing racing as a four year old Captain Sandy had one win at Winton (NZ) and three placings which encouraged his lessee owner JM Bain to think he might have a useful horse. However, he did not think or dream for one moment of the heights to which the gelding would rise in his ownership nor did he imagine that Captain Sandy would have a further career late in life in Australia.

Three wins and six placings as a five year old convinced Bain once again to continue with Captain Sandy but possibly the employment of a professional driver J Bryce Junior was a big factor in Captain Sandy's glorious six year old season in which he had seventeen starts for nine wins and five placings.

His wins were six at Auckland, Addington (2) and Forbury Park (1) and included the 1948 Auckland Cup and other high class races. His second place in a FFA at the Addington Easter meeting, when he lost by a nose in a thrilling finish to the champion Highland Fling, losing by a nose, put Captain Sandy among the top pacers in New Zealand.

After this season it was noticeable that the handicapper was now placing Captain Sandy among the back markers in his races and he was never again destined to start from the scratch mark except in FFA's.

In the 1949/50 season Captain Sandy's form started to fade a little or so it seemed; in reality it was the influx of new and fast pacers coming into the scratch mark in the higher class races whilst Captain Sandy now stood alone anywhere from 24 yards to 48 yards behind in his races.

Despite his apparent loss of form and against all odds Captain Sandy came from 36 yards to win his second Auckland Cup in 1949 and he was set for the 1950 Inter Dominion Championships in Melbourne at the Royal Showgrounds. His compatriots the high class pacers Globe Direct and Sprayman travelled with him to meet up with their Australian competitors, Claude Derby, Avian Derby, Darby Globe, Silver Peak and others in probably what was the best array of pacers to that year.

Placed on 24 yards Captain Sandy found the going tough but came through with a 4th, 7th and 3rd in the heats to just qualify for the Grand Final when bonus points for fastest time were added on.

The 1950 Championship has generally been reckoned as the roughest series of all time with interference galore and drivers suspensions aplenty; the favo

u

rite for the series Claude Derby the leading point scorer was severely interfered with by the driver of Captain Sandy and injured badly enough to be scratched from the Grand Final.

For Captain Sandy the series always seemed likely to have a disastrous outcome. Firstly, J Bryce Junior his regular New Zealand driver had been suspended for three months in New Zealand just weeks before the commencement of the Championship and secondly Freeman (FG) Holmes filling in for Bryce was suspended for three months for causing severe interference to Claude Derby and, on appeal, the sentence was doubled.

Sydney's leading driver, Jack (JD) Watts, had taken pacers to the pre-war Inter Dominions and was a frequent traveller to New Zealand but did not have a starter in the 1950 series. However, Watts was in Melbourne as he had a great interest in the Inter Dominions and had timed another of his horses to race in lesser class races during the Carnival. Bain knew Watts was a tough competitor having experience in Inter Dominion Championship racing and gave Watts the drive on Captain Sandy in the Grand Final.

Jack Watts from 24 yards on Captain Sandy tacked on to the back of the field fairly early on and was loping along in an easy manner but no one thought for a moment he would be able to work his way through the field on the small three furlong circumference Showground track. The New Zealand star pacer Globe Direct NZ also from 24 yards went to the front mid-race and was being acclaimed the winner turning into the straight, but already Captain Sandy, driven through the field by the canny Jack Watts, was emerging as a threat. In the run home the race toughened gelding out wide caught Globe Direct to win by a head in front of a record crowd of 36,055. He rated 2:11.8 for the 2800m trip.

Returning to New Zealand Captain Sandy did not win as an eight year old but with a 4th and 2nd from 36 yards in the Qualifying Divisions of the 1951 Championships in Christchurch, NZ, the gelding qualified for the Grand Final. Unfortunately, he was unplaced to Vedette off 12 yards.

Having only a few starts in the 1951/52 season for other trainers Captain Sandy was generally reckoned to be too old for racing in high class races and with no let up in handicapping he was retired after his last race at Addington on 12/4/52. In New Zealand Captain Sandy had 85 lifetime starts for 14 ½ wins and 19 placings and at one time had won more prizemoney than any other pacer in New Zealand or in Australia edging past the great Highland Fling P.1:57.

During the winter of 1952 Dinny Nolan an expatriate South African then living in Adelaide, SA, visited New Zealand on the lookout for a pacer that might be improved to race in the 1953 Inter Dominion Championships in Perth the following year.

Purchasing the now nine year old Captain Sandy for 525 guineas from Bob Ludemann, Nolan took the veteran pacer to Melbourne where the handicapper showed no mercy with Captain Sandy anywhere from 24 to 48 yards behind. In six starts Captain Sandy was placed twice and was close up in 4th and 5th places in two others. However, the veteran showed he still had some class by winning a FFA over 14 furlongs at the Royal Showgrounds, the scene of his triumph some years earlier.

The gelding then faced the road trip to Perth, which involved travelling some 1800 miles in seven days across the Nullabor Plains desert in the height of summer in January 1953 in a non air conditioned truck. He was unplaced to the Western Australian champion Beau Don in a FFA just prior to the start of the Championship, but despite being handicapped on 24 yards in the Qualifying Divisions, Captain Sandy performed 4th, 2nd and 2nd in the heats. However, it was believed he had no chance against the best performers in the heats - the champions Ribands, Beau Don and Blue Mist.

Freeman Holmes who had driven Captain Sandy in the 1950 heats in Melbourne had been engaged to drive the gelding in the Perth heats as well as Blue Mist NZ, on whom he had won two heats. Nolan, realizing that Holmes would drive Blue Mist NZ in the Grand Final, found a Perth driver for Captain Sandy in the third heat and the Grand Final.

Bob Pollock Junior, a promising younger driver, was given the task and whilst the more

favoured

pacers were guarded day and night following fans' displeasure with an action-packed heat, Captain Sandy romped freely in his paddock without any security.

The four year old Ribands off 12 yards had won his three heats and was favo

u

rite at 6/4 for the Grand Final whereas Captain Sandy off 24 yards was at 33/1. In front after a furlong Ribands careered along for most of the thirteen furlong journey without any serious challenges and turning for home looked the winner.

However, to the surprise of the record crowd of 57,000, Captain Sandy was steadily making ground against the rest of a tiring field and finally got the better of Ribands in the shadows of the post to win by half a length in a mile rate of 2:05.8. That performance set a track record for the 2600m run, and the fastest mile rate ever recorded in Australia to that date. He also created history as the first dual Inter Dominion winner, and is still the only 10-year old to take out the Final.

After this win Captain Sandy became the highest stakemoney winner in Australia-thoroughbred or standardbred, with more than 40,000 pounds, until bettered by the thoroughbred Hydrogen. His owner-trainer Nolen also paid tribute to early lessee JM Bain for his advice on how to train the horse for best results.

Staying over for a short time Captain Sandy time trialled at Gloucester Park in 1:59 and at Bunbury in 1:57.5 but both time trials were disallowed as per the then rules of trotting in America as the pacemakers had preceded the gelding for a short time. Captain Sandy later time trialled in an exhibition mile paced under orthodox conditions by Miss Pat Bush on a beautiful hack at the Snowtown, SA, track in 2:03 on his way back to Melbourne.

He then won the 1953 Easter Cup at the Royal Showgrounds and a FFA at Warragul.

At the end of his 10 year old season Captain Sandy time trialled at Harold Park in a disappointing 2:02.2 and then at Whyalla, SA, in 2:04 after going down to Floodlight at Wayville on 30/5/53 the last meeting of the season.

Resuming as an 11year old Captain Sandy again fell foul of the handicapping system but managed to win a Victoria Cup heat from 72 yards behind at the Royal Showgrounds driven by Terry Nolan and then won a country FFA at Horsham.

Transferred to AJ Howard late in life and driven by J Bryce Junior, one of his earlier drivers in New Zealand, Captain Sandy qualified on fastest times in the heats from 48 yards behind for the 1954 Inter Dominion Grand Final in Adelaide. He finished a close fourth to Tennessee Sky in front of 47,500 patrons.

Shortly afterwards, when his training and driving was taken over by Claude Tupper at Bankstown, NSW, Captain Sandy surprisingly won the prestigious 1954 Easter Cup (Lord Mayors Cup) at Harold Park from 36 yards behind over 13 ½ furlongs neglected in the betting at 50/1.

He then faded out of racing.

A victim of the handicapping system coupled with standing starts Captain Sandy was the first to win the Inter Dominion Championship twice and had many other credits despite the shortcomings of the racing system in those days which acted to the gelding's detriment for most of his racing life. Captain Sandy was a gallant and defiant gelding whose Australasian record earnings are noted as some 43,000 pounds, and it is a measure of his greatness that no handicapper was ever game enough to place him on anything other than the back mark right to the end of his racing days.


main races/honours
won by Captain sandy nz
Auckland Cup
(2)
1948, 1949
Inter Dominion Pacing Championship Grand Final
(2)
1950, 1953
Easter Cup (Lord Mayor's Cup)
(2)
1953, 1954
race footage
1950 Pacing Final
Race footage courtesy Mike Dickinson
pedigree
Pedigree - Captain Sandy