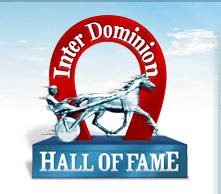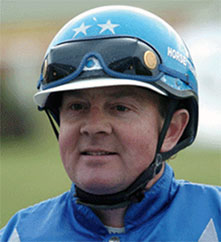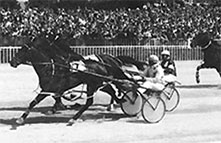 Sole Command wins the 1977
New Zealand Cup
photo courtesy Ron Bisman's A Salute To Trotting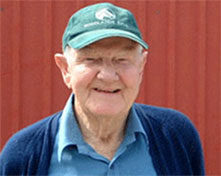 Roy Purdon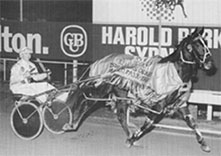 After winning the 1993 NSW Derby with
Il Vicolo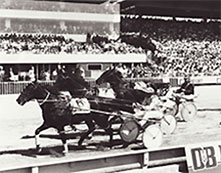 Surprise winner – 1991 Pacers Championship Final – Mark Purdon and Mark Hanover, Auckland, NZ 16/03/1991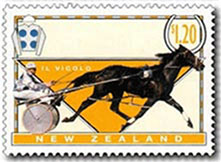 Il Vicolo was one of six horses in the 1996 New Zealand Commemorative Racing Stamp Souvenir Set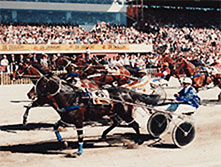 Il Vicolo - 1995 New Zealand Cup, Addington, Christchurch, NZ 07/11/1995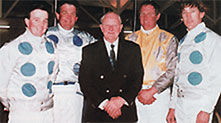 Roy Purdon, and sons Mark, Barry and Owen, and son-in-law Tony Herlihy. They won the Pacers Inter Dominion in 1991 with Mark Hanover, and 2 Trotters titles with Diamond Field & Pride Of Petite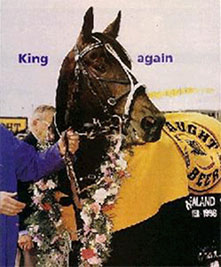 Il Vicolo after winning the 1996 NZ
Trotting Cup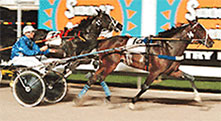 1996 Trotters Championship Final,win Moonee Valley, Melbourne 24/02/1996

Photo courtesy Harness Racing Victoria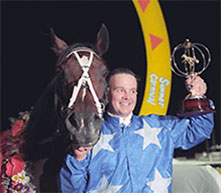 Mark Purdon and Pride Of Petite after their 1996 victory

copyright © Geoff Ampt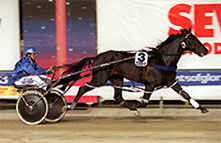 Young Rufus NZ and Mark Purdon easily win the 2003 Victoria Cup 08/03/2003

copyright © Gary Wild and used with permission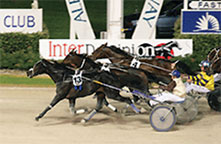 Close finish - I Can Doosit takes out the 2011 Trotters Championship Final from Let Me Thru and Stylish Monarch – Auckland, NZ 08/04/2011

Photo courtesy Harness Racing New Zealand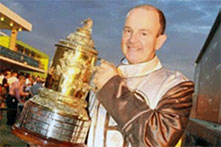 Mark holds the 2012 Inter Dominion Trotters Championship Trophy – the second successive Win by I Can Doosit – Tabcorp Park, Melton 4/02/2012

photo courtesy Harness Racing Victoria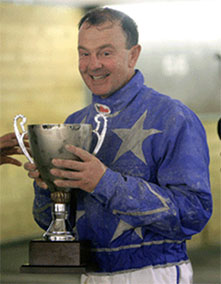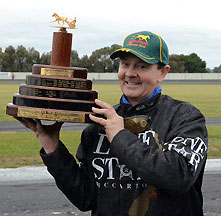 Mark Purdon with 2013 Redwood Classic Trophy (Daenerys Targaryen NZ)
14/07/2013 Maryborough



Multi–Championship Winning Driver



Membership of the Inter Dominion Hall of Fame for Mark Purdon was never a matter of if, only when, and it came in 2011, with his winning drive on trotter I Can Doosit in the Championship Final. Not only was Mark a genetically gifted horseman, he also had the good fortune to be born into one of the rare dynasties that embraced international challenges. Looking back, Mark reminisced that as a teenager the only future that he could envisage was one of with horses, a memory confirmed by his parents Roy and Margaret as well as his brother Barry.

Arriving home from school, Mark's schoolbag was quickly dumped inside the Purdon home as the youngster made a beeline for the stables for a brush to groom his then pride and joy, Sole Command. Trained by Roy Purdon and later by the all powerful Roy/Barry Purdon partnership, Sole Command won a New Zealand Cup, Auckland Cup and two heats of the 1978 Melbourne Inter Dominion and each time was tended to by Mark in the stables.

For all those teenage years Mark was a virtual sponge, absorbing all the training intricacies and knowledge that his father Roy and Barry possessed while all the time displaying his own developing innate bond with equines. Roy trained well over 2000 winners during his career, and mentions Chokin and Luxury Liner as two of his more impressive performers.

The 1970s and 1980s were golden years for the Purdon family with Roy taking out training premierships in his own name in 1970/1 and 1974/5-1976/7, before the father-son team of Roy and Barry won every premiership from 1977/8 until 1988/9, plus 1990/91-1994/95. On the racetrack new youthful driving stars emerged such as Cantabrians Anthony and David Butt, along with North Islanders David Butcher and Tony Herlihy.

Roy Purdon's grandfather came from Scotland just after the first World War, and several of his sons became involved in horse racing, including Roy's father Hugh. It was after World War II, in the tough Depression times, that Hugh and Roy started work together, initially at New Lynn, then Mangere and Pukekohe. Horses were hard to come by, but in the lead-up to Roy's moving to a property at Te Awamutu next to the racetrack his burgeoning driving career lifted, and the family efforts began paying dividends. Their first big winner was Call Boy – taking the Great Northern Derby about 1958 on a protest.

Roy married Margaret Hughes, a champion golfer and sister to a fellow trainer Jack Hughes, and their four children Barry, Owen, Mark and Suzanne grew up around the stables at Pukekohe and Clevedon. A schoolboy hip injury forced Roy to concentrate on training, with Peter Wolfenden as the initial stable driver; Roy trained his first NZ Cup winner in 1977 (Sole Command), and built a NZ record of winners and premierships (21) never matched in either horse racing code. He and son Barry hold another record - 168 winners in a season (1993-94) His honours include life membership of Auckland Trotting Club (2011), an award for "Outstanding Contribution to the NZ Harness Racing Industry" (2011) and an MBE (1988).

Mark made a modest start to his driving career achieving his first victory at Ruakaka on 1st February, 1982 behind Dark And Dusty, closing out the 1981/82 season with six wins and in his five seasons competing as a junior Mark won less than fifty races.

In his first season as a professional driver though Mark more than doubled his lifetime tally winning 51 races, finishing fourth on the National driving premiership table and collecting his first two Group One victories – Miss Ardmore (Great Northern Oaks) and Julie Vance (New Zealand Oaks).

The following season Mark drove in 524 races (74 wins) in New Zealand, an exhausting itinerary that he never tried to emulate, leaving such schedules to the likes of his now brother-in-law Tony Herlihy who had married Mark's sister Suzanne. Tony and Mark were close friends and in 1990 they purchased a property at Ardmore and the following year's Inter Dominion Pacing Championship at Alexandra Park (Auckland) proved to be a fairytale one not only for Mark but for all the Purdon clan.

The 1991 Championship Series featured the first challenge by North American trained pacers – Night Colt and Dare You To. However, while Dare You To won a heat he was not a factor in a Purdon-dominated Grand Final. Roy and Barry Purdon trained the first two pacers home – Mark Hanover (named for Mark Purdon) and Christopher Vance – with close friends Mark Purdon and Tony Herlihy respectively partnering Mark Hanover (1st) and Christopher Vance (2nd).

The gelding, Mark Hanover, was a surprise winner, after managing only placings in his four heats, and up against rivals such as Christopher Vance and Blossom Lady. However, as Mark commented "we got the right run and we won", and it seemed only a matter of time before he added to that inaugural Inter Dominion glory.

In 1993 Mark won his first New Zealand Derby with Mark Roy and in an amazing winning streak also won that premier three-year-old classic in 1995 (Il Vicolo), 1996 (The Court Owl) and 1997 (Bogan Fella). Sixteen months later Mark Purdon drove in both finals of the Inter Dominion Championship in Addington, finishing seventh in the Pacer's Grand Final on Nippon Home and second in the Trotter's Grand Final with Pride Of Petite.

If there was to be a signature season for Mark Purdon it was surely the 1995/96 season, his first as a public trainer, and the pacer that announced Mark as a master trainer in that season was the champion Il Vicolo who Mark raced in partnership with John Seaton. Within just three months under Purdon's tutelage, Il Vicolo had won the New Zealand Cup, and the triple Derby winner will always be remembered by Purdon as the horse that set him on an incredible training journey, and significantly enhanced his driving reputation, both at home and in Australia, where they won some $257,000 in seven races, including the 1995 NSW Derby (1st) and the 1996 Miracle Mile (2 x 2nds).

If ever one required evidence of the esteem in which Il Vicolo was held they need look no further than the pacer's selection as one of six (two pacers and four gallopers) by the New Zealand Post Office to grace a rare souvenir New Zealand stamp set and booklet.

That inaugural season as a public trainer, which coincided with his father's retirement, saw Mark's team win 81 races, a total bettered only by brother Barry's 84, and led to Il Vicolo's being unanimously voted as NZ Horse of the Year. Others in Mark's team to garner national honours were Megaera (NZ 2YO Filly of the Year), Bogan Fella (NZ 2YO Pacer of the Year), The Court Owl (NZ 3YO Pacer of the Year) and Pride Of Petite (NZ Aged Trotting Mare of the Year).

Further Inter Dominion success was also claimed in 1996 with Diamond Field and Pride Of Petite across the ditch at Moonee Valley. While Diamond Field won his two heats, the magic moment for Mark came with Pride Of Petite's victory in the Trotter's Grand Final (1996). In her lead-up, the mare, trained and driven by Purdon, had taken honours in the Inter-Colonial Trotters Mile and the Dullard Cup, and recorded Inter Dominion heat results of a second and a win, both off 30 metres. In the final, from last at the bell, Purdon worked her around the field to gain a convincing victory in track-record time by three metres over Chiola Cola NZ, with Wagon Apollo third.

That 1996 victory earned Pride Of Petite a place in the eliminations of world's premier sprinting contest, the Elitloppet at Solvalla Raceway in suburban Stockholm. Pride Of Petite finished fourth in her elimination qualifying for the rich Final, a task that has proved beyond all subsequent Southern Hemisphere challengers.

The 1996/97 season saw Il Vicolo win his second New Zealand Cup and the special place that horse had in Mark's life was obvious when he was interviewed several years later - "The two New Zealand Cups were the biggest memories for me in his New Zealand racing. To win a cup on your own account is unforgettable at any time and I had looked after Sole Command who had won for (father) Roy in 1977, so it was a race I always wanted to win. To win it twice, well, that was something.'

Pride Of Petite won her back-to-back title in the Inter Dominion Grand Final in 1997 (in Adelaide), despite a controversy over handicapping that saw the filly off the back mark of 40m and the very recently improved Knight Pistol, winner of the Australasian Trotting Championship, on the front-line. Pride Of Petite set a new track record in her first heat, and she stormed home from the tail of the field in the final, driven by Tony Herlihy, taking victory by a short-half head in a photo-finish from Wagon Apollo and Knight Pistol. Purdon claimed trainer honours, for both that and Brabham's win in the Pacing Consolation (also driven by Herlihy).

In the 1998 series at Harold Park (Sydney), three Mark Purdon-trained trotters qualified for the final, Buster Hanover NZ, Sundons Way NZ and Pride Of Petite - but again, it was good friend and brother-in-law Tony Herlihy who had the winning drive, this time with Buster Hanover NZ. While Pride Of Petite finished a credible fourth, her driver Purdon could still celebrate, having made it three Inter Dominion Trotting Championships in succession as a trainer.

Group One winners of both gaits flowed continuously thereafter including Brabham and one of Mark's all-time favourites Young Rufus. Along the way, there were more positive Inter Dominion pacing performances – Bogan Fella NZ (1999 Championship final -3rd), and Young Rufus (2005 Championship heat - 1st). However, disaster struck in 2005 when Mark become embroiled in the sordid Blue Magic imbroglio that cost two people their lives, one of them being Mark's number one patron John Seaton.

The upshot so far as Mark was concerned was four months disqualification; however, his incredible support network of family, friends and patrons combined with his self-belief in the future enabled him to re-launch his training career and take it to a new level.

He won two Crowns at the inaugural Harness Jewels meeting in 2007 and in the next twelve months formed a partnership with his brother-in-law Grant Payne at the new state of the art "All Stars" training facility at Rolleston. New stars on the track emerged such as Highview Tommy, Joyfuljoy, Fiery Falcon, Major Mark and of course the enigmatic Auckland Reactor, who was syndicated for $NZ3.5 million. In just four seasons in operation the Purdon-Payne partnership had won every New Zealand training title, including "most wins" (three) and "highest stakes" (four).

By end July 2010, Purdon had 54 Group 1 national driving wins, second only to Tony Herlihy with 59. In 2011 Inter Dominion glory was added when the trotter I Can Doosit, with Mark Purdon in the driving seat, caused a minor surprise by downing the young Australian star Let Me Thru in a late run to the post in the Grand Final, after qualifying with a fifth and a third placing in the heats. The series was held in Auckland, after severe earthquake damage to Christchurch and its infrastructure.

That victory also upgraded Mark's Inter Dominion record to three driving titles (Mark Hanover-1991; Pride of Petite -1996; I Can Doosit-2011) and earned him that inevitable membership to the Inter Dominion Hall of Fame, where he joined two other notables – Tony Herlihy and Pride Of Petite – whose achievements are intertwined with Purdon's. Similarly noteworthy is that Mark's three high profile drives involved both trotting and pacing championships.

The same Purdon/I Can Doosit combination had earlier won the Lyell Creek Stakes (Auckland) and the Grand Circuit Cochran Trotters Cup (Australia), and they went on to take the 3200m Rowe Cup to give Purdon another honour to add to his resume. That result also secured the national 2011 Trotter of the Year title for I Can Doosit (stable name "Lucky"), and this was duplicated by the North Island title too. Two Harness Jewels winners Lancome (4YO) and Fly Like an Eagle (2YO) added positive notes to 2011, as did two Consolation victories at the Breeders Crown finals (Mr Nickel and Shezanelsu), and Fly Like An Eagle's award as 2YO Colt or Gelding 2011, matching I Can Doosit's similar 5YO and Older award.

In recent times, Purdon has done well from his strategy of travelling his best horses to major venues including Melton and Menangle in Australia, no doubt encouraged by positive results from previous cross-Tasman forays, such as Fly Like An Eagle's gains of $46,270 during April-July 2011, and the more attractive racing stakes now on offer. Overall Australian driving figures of 69 wins and near $2.1m in prizemoney to end 2010/11 also reflect the potential advantages.

Success continued during 2011/12, with his driving skills leading to experienced performers being joined by new stars in the winners' circle. One of the latter was Smolda, part-owned by NSW Hunter Valley businessman Marcus Kirkwood. Among other victories, this 3YO colt won the NSW Derby in a new Menangle track record mile rate of 1:56.1 (for 2400m mobile), and also the NZ Emerald Jewels 3YO (equalling the national record for pacers – 1:52.1). Other Group 1 highlights included Hands Christian (NZ Easter Cup), Twist And Twirl (NZ Northern Oaks & Fillies Championship), and Highview Tommy (Ballarat Cup Victoria).

Top honours came with I Can Doosit ("Lucky") – capped by the successful defence of his Inter Dominion (ID) Trotting championship title in February 2012 in Victoria. In the lead-up, "Lucky" smashed an eleven year old Lyell Creek trotting record for NZ in a mobile mile at Cambridge, winning the Flying Mile in 1:55.5 (0.1 seconds faster). Their ID campaign started well with two heat victories – first at Shepparton, then an amazing result with I Didnt Do It (at Ballarat) when they scored the first dead-heat ever in the event's history since its start in 1948. That would also be the last, as the Trotting Championship was discontinued after the 2012 series.

Purdon guided "Lucky" to a stylish win in the final – some five metres ahead of Vulcan, and assisted by I Didnt Do It breaking stride early in the race. That confirmed Purdon as the most successful trainer in the series (with five wins), and he recognised the significance of that – "knowing we've won the last one and that I will hold the record for the most wins, it is that little bit more special".

Much to the delight of owner/breeder Ken Breckon, the driver/trotter partnership went on to take out a second and consecutive Rowe Cup (NZ) plus the NZ Trotting Championship, giving them five victories in Grand Circuit races, and securing the 2012 series title for "Lucky". In parallel, Purdon's driving profile was enhanced further with other positive results in both New Zealand and Australia and a season list of 12 Group 1 titles. He finished the NZ season with 75 wins, his highest ever total in a career spanning three decades, and the Purdon/Payne training combination topped the premiership table for the fifth time with an individual record 138 winners, prior to Mark's return to training under his own name.

Fewer drives in 2012/13 did not dint Purdon's reputation, given that his winning tally included another 9 Group 1 honours, featuring high profile events such as two Jewels titles, the NZ Derby, and the Dominion. Two of his top performers took out national NZ awards – Adore Me (3YO Pacing Filly) and Escapee (4YO Trotting Mare), while Border Control set a new national record (1:50.6 mile rate, Horses and Geldings). However, strong achiever I Can Doosit was rested after injury, and Mark's Inter Dominion campaign was unsuccessful, with no finalist due to poor lead-up results by his pacing contenders in the heats run at concurrent Trans-Tasman meetings under a new format adopted by host state New South Wales. Nevertheless, his regular forays into Australia did bring positive returns with some $321,500 and 18 wins, including the Redwood Classic (Maryborough) with Daenerys Targaryen NZ.

Over the next three seasons, Purdon reinforced his driving success rate in top-class races, with an amazing 44 Group 1 wins across Australia and New Zealand. Breeders Crown titles (9), plus Derby and Jewels victories featured strongly, and several records at national and world levels were reset. Sharing the limelight with the master reinsman during that 2014 - 2016 period were top performers such as Adore Me, Smolda and Our Waikiki Beach. Mark's partnership with Natalie Rasmussen also took line honours in the three New Zealand trainer premierships.

In late 2014, a fourth place finish in the Inter Dominion final at Menangle with Smolda showed Mark's continuing interest in the Championships, and they returned in 2016 to score a hard fought close win over Hectorjayjay in Perth, in a track record thriller (1:55.8 mile rate). That created great anticipation for the 2017 series, which did not disappoint the pundits - further records were broken, with Lazarus giving Purdon his sixth Inter Dominion driver's title, and seventh as trainer – both setting new benchmarks over those previously held by Brian Hancock since 1999. Lazarus was also recognised with several awards, including the high profile Australian Harness Horse of the Year (2018) accolade.

Well established and well credentialed in the industry, Mark is recognised not only for his driving and training skills, but also for his ability to select and buy yearlings that become high performers for owners such as long-time associates Neil Pilcher and the Kennards. By end 2017/18 his combined lifetime NZ/Australian driving achievements showed an impressive 8250 wins and some $41.2 million in prizemoney; given his significant involvement and notable success in trans-Tasman activity, it can be expected that Mark will continue to be a force in the industry for quite some time.


INTER DOMINION DRIVER WINS RECORD FOR
MARK PURDON
INTER DOMINION PACING CHAMPIONSHIP
GRAND FINAL
Mark Hanover (1991 - Moonee Valley)
Smolda (2016 – Gloucester Park)
Lazarus NZ (2017 – Gloucester Park)
INTER DOMINION PACING CHAMPIONSHP HEATS
Bogan Fella NZ (1999 – Auckland)
Young Rufus NZ (2005 - Auckland)
Smolda (2016 – Gloucester Park)
Lazarus NZ (2017 – Gloucester Park)
INTER DOMINION TROTTING CHAMPIONSHIP
GRAND FINAL
Pride Of Petite USA (1996 – Moonee Valley)
I Can Doosit NZ (2011 – Auckland)
I Can Doosit NZ (2012 – Tabcorp Park, Melton)
INTER DOMINION TROTTING CHAMPIONSHIP HEATS
Pride Of Petite USA (1996 – Moonee Valley)
Diamond Field (1996 – Moonee Valley) x 2
Pride Of Petite USA (1999 – Auckland)
I Can Doosit NZ (2012 – Tabcorp Park, Melton) x 2


For Mark Purdon's Major Australian Group Race Wins – click here


race footage
2012 Trotting Final
Race Footage courtesy Harness Racing Victoria and Provideo
2011 Trotting Final
Race Footage copyright New Zealand Racing Board
1996 Trotting Final
Race Footage courtesy Harness Racing Victoria and Provideo
1991 Pacing Final
Race Footage copyright New Zealand Racing Board