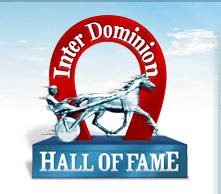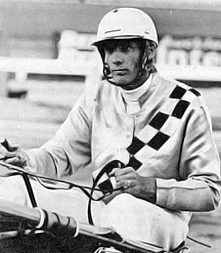 photo courtesy Ron Bisman's "A Salute To Trotting"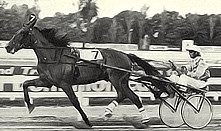 John Langdon and Castleton's Pride win well clear of the field in the 1975 Trotting Championship
photo courtesy Ron Bisman and Taylor Strong's "The Inter Dominions – A Saga of Champions (1977-78)"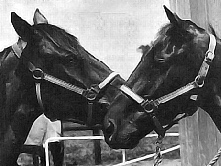 1975 Inter Dominion champions in Auckland, trotter Castleton's Pride (left) and pacer Young Quinn, team-mates in Charlie Hunter's Cambridge stable


photo courtesy Ron Bisman's "A Salute To Trotting"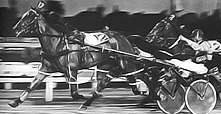 Reins held high, John Langdon urges Young Quinn forward to win the 1975 Pacing Championship


photo courtesy Ron Bisman and Taylor Strong's "The Inter Dominions – A Saga of Champions (1977-78)"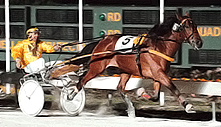 John Langdon and William Dee take out the 1992 Trotting Championship, Moonee Valley


photo courtesy of Harness Racing Victoria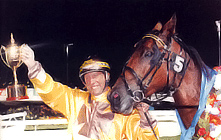 John Langdon holds the trophy high after his 1992 win with William Dee


photo courtesy Ron Bisman's 1992 Harness Racing Annual



HISTORY MAKING DUAL WINNING DRIVER
John Langdon created history by driving Young Quinn and Castleton's Pride to win the pacing and trotting Grand Finals of the 1975 Inter Dominion series at Auckland's Alexandra Park. He enhanced that achievement in 1982, when, as trainer/driver, he took William Dee to a win in the trot final in Melbourne.

Born and raised in Christchurch, Langdon skipped school as a 15-year-old on New Zealand Cup day in 1962 to watch Lordship win the big event. He dreamed of one day winning the race himself although he had no connection with harness racing other than to like what he saw of it. On leaving school, he took a position in the Christchurch accounts office of the Ministry of Works, but his heart was set on getting a job in a trotting stable.

Langdon pestered high-profile Belfast horseman, the late Cecil Donald, to take him on. Donald, though reluctant to take on one so inexperienced, was persuaded by John's persistent phone calls and relented.

With the Donald stable running hot in the 1960s, Langdon learned the rudiments with good horses and a masterful boss. When he had been with Donald two years, he was granted a licence to drive at matinees. However, in the year that followed he had only four drives. Deciding to try his fortune further afield, he moved north to Morrinsville in the Waikato province, where he spent two years with another former Cantabrian, Neil White. During that time, he was granted a probationary driver's licence. He landed his first winner, Vice Royal, on the grass at Hawera in April, 1969.

Showing how difficult it was for the tyro reinsmen in those days, Langdon, in his second year with White, drove a mere six winners to be New Zealand's leading probationary reinsman.

Leaving White, Langdon put in a year as private trainer of a small team raced by wealthy Auckland owners Harry and Pearl Baker. In that season (1970/71), he produced two horses - the straightout trotters Corsair and King High - at the races a total of 21 times for six wins and five placings.

With that background, Langdon, aged 23 in 1971, joined up with accomplished horseman Charlie Hunter. Becoming increasingly involved in exporting horses to America, Hunter was able to make excellent use of Langdon. The stable flourished to the extent that Hunter in 1973/74 won the trainers' premiership and shared the title with Roy Purdon the next season, each with 67 wins. Langdon that term drove 44 winners to finish second in the national drivers' premiership behind the record-shattering Peter Wolfenden (101).

When Hunter was troubled with an ear infection leading up to the 1975 Inter Dominion series in Auckland, it was arranged that, should he not be able to drive the grand pacer Young Quinn and promising trotter Castleton's Pride, Langdon would be called upon to substitute. And, while Hunter began the series as fit as a fiddle, with Langdon having prepared himself to watch on from the wings, fate was to intervene.

Hunter, after winning with Young Quinn on opening night, was on the second night sent crashing to the track and was trampled on by oncoming horses in one of the worst pile-ups seen at Alexandra Park. Less than two hours before Young Quinn's vital second-night heat, Hunter was whisked away by ambulance to hospital, where it was found he had broken a bone in his right hand and chipped another in his left wrist.

Narrowly escaping trouble when driving also in that accident-marred supporting race, Langdon was given his first race-drive behind Young Quinn in the upcoming heat. A handsome win resulted, and was repeated on the third night, when he also piloted Roy McKenzie's Castleton's Pride to victory (at 17-to-1) in the Trotters' Grand Final.

Castleton's Pride's win gave Roy McKenzie (later Sir Roy) his second ID Trotters' Grand Final. Geffin, trained and driven for him by Hunter, had won the title at Addington four years earlier. Castleton's Pride was bought by McKenzie after showing good form as a 6-year-old. The purchase was doubtless influenced by the fact that the granddam, Highland Gift, was bred at Roydon Lodge by Roy's father Sir John McKenzie and was a daughter of Roy's first significant winner Highland Kilt.

Quite unsound, Castleton's Pride was retired as an 8-year-old, his 10 wins and 25 placings having earned $32,875. Roy McKenzie gave him to a disabled drivers' association, who appreciatively used him to lead promotional street parades.
A week after the 1975 Trotters' Grand Final, before a crowd of 30,000, Langdon and Young Quinn started from 15 metres in the Pacers' Final. Overcoming traffic problems that saw them seemingly out of the race 800 metres from home, they stormed in, victorious by a length and a quarter in record time. Never before had the same driver won both Grand Finals of an Inter Dominion series - a feat that remains unique.

Young Quinn would soon after confound the critics by coming from the outside (6) draw to easily win the Miracle Mile in Sydney. Boasting 38 wins and 19 minor placings from 62 starts, record Australasian stake-earnings for a standardbred of $202,496 and a world mark for aged geldings of 1:57, Young Quinn was then off to America. There, over the next four years, from age six to 10, despite recurring ligament problems that necessitated several long lay-offs from racing, he competed 63 times for 22 wins and 17 minor placings, earning $479,260. He twice briefly held the world mark for aged geldings, his best being 1:55.

Returned home early in 1979 after going amiss again, Young Quinn was patched up for another tilt at the Auckland Cup - a race he had won when half that age in 1975. With just one race to fit him for that bid, he finished a gallant fourth. Southland owners Bud Baynes and his son Des then retired him. In all he raced 135 times for 59 wins, 23 seconds, 14 thirds, 10 fourths and seven fifths, earning $759,227.

The notoriety earned by Langdon led him to set up as a public trainer in his own right in February, 1976. From that point, he finished consistently high on the lists of New Zealand's trainers and reinsmen. From the late 1980s, Langdon was assisted by his son Michael, who in his turn would also develop into a top-flight horseman. In 1989, Neroship won their stable the centennial Auckland Cup; then in 1990, Langdon saw his school-boy day-dream become a reality as he guided Neroship to win the New Zealand Cup.

John Langdon's next stable star was William Dee. The gelded trotting son of 1979 Dominion Handicap winner Alias Armbro entered his stable in Waikato in mid-1990 as a 5-year-old with seven wins to his credit. His form to that point had been from Bevan Heron's North Canterbury stable; and as his owner, Christchurch insurance agent Kevin O'Gorman, had another fine trotter in Idle Pride with Heron, he decided to split the pair.

After a shaky start with William Dee, Langdon had him winning good races from the outset of his 6-year-old campaign. He made the Auckland Inter Dominion Grand Final in 1991, having finished runner-up in each of his two heats. But seventh was the best he could do in the big one that year. He was then spelled, and O'Gorman, looking to keep his racing finances healthy, sold a half-share in him to Aucklanders Glen Curach, Tony Garelja and Eamon Green, clients of Langdon.

Starting his 7-year-old campaign with moderate form in Auckland, William Dee then swept clean at the NZ Cup carnival, taking out the two free-for-alls and scoring comfortably in the Dominion Handicap.

Far from impressive in the two heats of the 1992 Inter Dominion series at Moonee Valley, when fourth each night, he was away safely for Langdon in the Grand Final. Avoiding trouble in a rough race, they were in front 2000 metres out. From there Langdon had no worries. They hit the line two metres to the good of compatriate and defending champ Fraggle Rock. The 2:02.2 mile rate for the 2840 metres equalled the track record.

That win was William Dee's 18th from 67 starts. Langdon became the fourth driver to win two Inter Dominion Trotting Championships, joining Bob Young, Doody Townley and Graeme Lang.

In the late 1990s, John and wife Jenny moved to Australia, where son Michael was already making a name for himself. While not as actively involved as in the past, the Langdons still savoured some important successes, including those with The Suleiman, Beefy T, Cee New York and Alabama's Idol. John's continuing interest in the industry led to his becoming raceway supervisor at the Gold Coast Harness Racing Club where an historical Winter Cup (Group 1) was run on 23 July 2011 when star performer Blacks A Fake was retired after finishing second. Coincidentally, the winner, Georgetown, was driven by Langdon's son Michael, now back in Australia after success as a freelance driver in Canada and North America.

In Canada, Michael Langdon enjoyed a high profile as one of the leading reinsmen at Georgian Downs in Ontario, and in mid-2006 at that venue, he was accredited with his 1000th driving win. He is now settled in Victoria (Australia), and is building a favourable reputation as both trainer and driver with Georgetown, raced by part-time Canadian trainer Isaac Waxman and wife Brenda. Between January-July 2011, the Washington VC gelding has won close to $100,000 in Australia. Michael's son, Vinnie, is continuing the family tradition as well - working as a driver in New Zealand with Todd Mitchell.



race footage

1992 Pacing Final
Race footage courtesy Harness Racing Victoria and Provideo
1975 Pacing Final
Race footage courtesy Mike Dickinson

1975 Trotting Final
Race footage courtesy Mike Dickinson