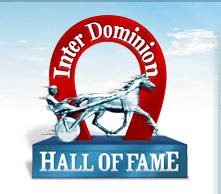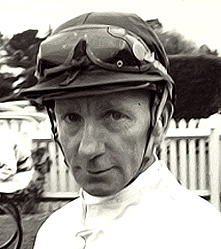 copyright ©

W.E. Johnson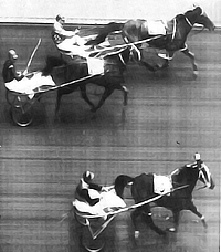 The official photo-finish of the dramatic last stride in the 1965 Pacing Championship. Robin Dundee (nearest camera) certainly looks as though she has caught Jay Ar. Disband is a gallant third


photo courtesy Ron Bisman & Taylor Strong's "The Inter Dominions – a Saga of Champions (1977-78)"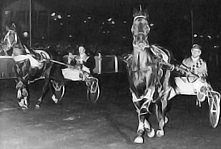 Co-winners Robin Dundee (Doody Townley) (left) and Jay Ar (George Noble) parade in front of the surprised crowd


photo courtesy Ron Bisman & Taylor Strong's "The Inter Dominions – a Saga of Champions (1977-78)"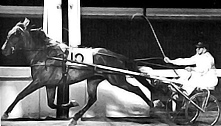 In the expert hands of Doody Townley, Stylish Major romps in to win the 1968 Trotting Championship, Dunedin


photo courtesy Ron Bisman & Taylor Strong's "The Inter Dominions – a Saga of Champions (1977-78)"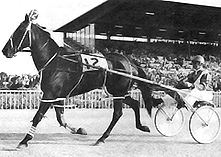 Doody Townley and Stella Frost – they won the 1971 Pacing Championship in Christchurch


photo courtesy Ron Bisman's "Harness Heroes"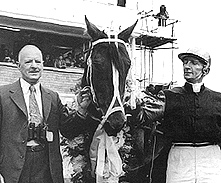 Doody Townley with True Averil and Clarrie Rhodes after winning the 1971 New Zealand Cup


photo courtesy Ron Bisman's 1992 Harness Racing Annual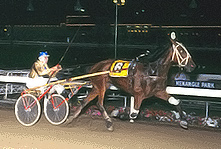 Doody Townley and Hano Direct win the 1980 Trotting Championship, Harold Park
copyright ©

Clyde Lett



CHAMPION DRIVER AND TRAINER
An Inter Dominion Hall of Fame honouree by dint of four Grand Final driving victories, Doody Townley was in his heyday widely considered as proficient a reinsman as was to be found in his homeland of New Zealand.

Townley won pacing Grand Finals in Dunedin in 1965 (with Robin Dundee, dead-heating with Jay Ar) and Stella Frost in Christchurch in 1971 (promoted on the disqualification of their victor, Junior's Image). In the trotting section, he won Grand Finals with Stylish Major in Auckland in 1968 and Hano Direct in Sydney in 1980. His overall career wins included 21 Group 1 victories, and more than 700 others.

Born David James Townley in 1925 into a family with roots already well-entrenched in the harness sport, Doody, one of 10 children, was destined to become one of the top horsemen of his era. While he did not win a premiership, he was constantly in the top echelon - eagerly sought after as a catch-driver, and admired for his ability to handle a trotter.

The Townley family, first prominent in early days in Southland, set up base at Tinwald in mid-Canterbury early last century, at which point Doody's father Bob had already established himself as a trainer and driver. Although regarded as being an expert with straightout trotters, Bob's two most important winners were the pacers Dusky Sound (runner-up to Marlene in the 1940 NZ Cup) and Ned Worthy (winner of the 1940 Auckland Cup).

R.Townley jnr, brother of Doody, was also a fine driver, in demand in his day. One of his most memorable wins was with the great Harold Logan, in that public idol's final race victory in the 1936 NZ Free-for-all at Addington. Then aged 14, with 29 wins (including two NZ Cups) and 21 minor placings over the previous nine seasons, Harold Logan was decorated with a garland of flowers by the president's wife and showered with rose petals by an adoring crowd as he paraded before the event. And when he won it, the crowd went ecstatic.

Doody's first drive was the trotter Walter Jingle at Ashburton in early 1944, and his first win came with Tara's Hall at the Waimate gallops. He began training in 1947, and, during the war, when petrol supply was limited, the horses went to the races by train.

Five consecutive wins with Betty Maxegin brought some recognition as a trainer and he made a name for himself driving Rupee in the mid-1950s. With that smart pacer he was third in Johnny Globe's NZ Cup in 1954 and second behind Our Roger in the big event a year later. In the early 1960s, Townley teamed with Sun Chief, another fine pacer who won Derbies on both sides of the Tasman before failing by half a length in 1960 to prevent False Step from rounding out a treble in the NZ Cup. In 1965, he drove Jacobite to victory in the Easter Cup at Addington, defeating Robin Dundee and Lordship.

In his first experience at Inter Dominion level in 1963, Townley was entrusted with the handling of another top-flight pacer, Waitaki Hanover, at Adelaide. The talented 4-year-old was prepared for the series by former Kiwi, Edgar Kennerley (of Single Direct fame). When Kennerley was suspended for alleged interference on the way to finishing fifth on the first night, Townley - in Adelaide on a successful S.A. Derby mission with crack Kiwi 3-year-old Tactile - was handed the Waitaki Hanover reins. Leading all the way with him, he won boldly on the second night; and, while he broke and beat one in the third round, he made it into the Final.

Getting Waitaki Hanover away to lead in the big event, Townley had him clear turning into the small home-stretch. Champion Cardigan Bay, however, was not to be denied. He finished brilliantly to win, with Dusty Miller cutting Waitaki Hanover back to third in a tight finish.

Driving Robin Dundee at the 1964 Inter Dominions in Melbourne, Townley encountered a lot of trouble on opening night, finishing seventh. He did well to get her up from her 12yd handicap for a close second to South Australian star Minuteman on the next night. On the third night, Townley bolted in in track-record time with Robin Dundee. Sent out favourite for the Grand Final, Robin Dundee's luck ran out again. Cracking a pedal-bone on the journey, she finished a lack-lustre fifth as victory went to Minuteman.

At Dunedin's Forbury Park for the 1965 series, Robin Dundee improved sufficiently through the early heats to burst to the forefront of discussions by winning for Townley in world-record time for 11 furlongs on the third night. In a sensational Grand Final, compatriate Jay Ar led for home, with Robin Dundee, late clearing a pocket, several lengths in arrears a furlong out. After they flashed across the line, the official judge called Jay Ar in first and at the same time called for a photo. While he was scrutinising a second print, officials jumped the gun and decorated Jay Ar.

Clearly agitated, Townley insisted to trainer Jack Walsh that Robin Dundee had either won or dead-heated. Seeing Jay Ar decorated, Walsh woefully led Robin Dundee off to the stabling area. When the dead-heat was announced, Robin Dundee was hastily recalled by embarrassed officials. No allowance had been made for a dead-heat; so the sash was removed from Jay Ar and placed around the neck of Robin Dundee before the pair jointly did a victory parade.

At the Sydney 1966 Inter Dominion series, Townley trained and drove Jacobite to win a Pacing Consolation. At the 1968 Auckland Inter Dominion carnival, he drove the brother-and-sister trotting stablemates, Stylish Major and Le Chant, in the early rounds, then opted for Stylish Major when they were drawn to race together. Robert Cameron was assigned to Le Chant. Townley reined Stylish Major home to an easy win in the Grand Final, while Cameron prevailed with Le Chant in the Consolation. Both headed off to North America, where they were useful winners. Le Chant ultimately earned fame as the granddam of Grades Singing, one of the best trotters produced in North America with 84 USA and European victories and purses totalling $2.4 million.

In 1971, Townley savoured stardom at Inter Dominion pacing level, as the trainer-driver of the grand mare Stella Frost. This daughter of the imported Adios horse Thurber Frost was raced by Otago farmer Len Tilson, who had secured her granddam by rescuing her when, at an advanced age, she was about to be destroyed and her poisoned carcass laid to kill wild pigs. Tilson's faith in the maternal line - which had given him some earlier success as an owner - was rewarded handsomely by Stella Frost.

Entering Townley's stable as a 5-year-old boasting 10 wins, Stella Frost was guided by Doody to a comfortable win in the 1969 NZ Cup – only to have the race taken from them on the ground that they had caused a serious pile-up some 600 metres out. Townley insisted his move from the trail around the tiring pacemaker at that stage had been legitimate circumnavigation; that the smash had been the fault of horses on the outer boring in and squeezing things up.

Second to James in the 1970 NZ Cup, Stella Frost won the NZ Free-for-all, then romped home in the Auckland Cup. Set for the 1971 Inter Dominions at Addington, she was taken unbeaten through the heats by Townley. Edged out after a rocky passage in the Grand Final by West Australian challenger Junior's Image, they were ultimately awarded the title after Junior's Image was disqualified for testing positive to caffeine.

Taken by Tilson to America, Stella Frost performed moderately there and returned to New Zealand in foal to Most Happy Fella. Her foal, Stella's Fella, became a moderately successful sire, but Stella Frost proved disappointing as a matron.

Townley's big-race credits continued to expand. Driving True Averil for Christchurch owner Clarrie Rhodes, he won the 1971 NZ Cup, and in 1973 he took out the Pacers Consolation final at the Inter Dominion in Sydney with Scottish Charm.

His fourth and final Inter Dominion title win came in 1980 at Sydney's Harold Park. There, as the trainer-driver of 5-year-old trotting mare Hano Direct, he scored second to Victorian rep Hilton Bear after racing parked in the opening-night heat before a typically heady drive got her home with 10 metres to spare in the Grand Final. Raced by Townley's wife Audrey with Christchurch enthusiast Fergie Girdley, Hano Direct had won a heat at Addington the previous year, only to break and finish 10th of 12 in the Final.

In his final Inter Dominion appearance, at Melbourne's Moonee Valley in 1985, Townley was assigned to handle Sir Castleton. This diminutive but highly-talented trotter had finished third in the Grand Final to Victorian idol Scotch Notch at Auckland in 1983, then had run her down and beaten her in track-record time at Adelaide's Globe Derby Park in the 1984 Grand Final. First up in Melbourne, Sir Castleton prevailed with Scotch Notch a fast-closing second. On the second night both were easy winners. In the Grand Final, after Sir Castleton looked "home", this time it was Scotch Notch coming with the last run, and she ran him down to triumph by six metres.

Doody Townley created history with his four winning drives in Inter Dominion Grand Finals which demonstrated his skills with both pacers and trotters; he also established another record which combined these achievements with wins in high profile races in New Zealand – Auckland Cup (Stella Frost and Waitaki Hanover); New Zealand Cup (True Averil); Rowe Cup (Pohutakawa); Dominion Handicap (Mighty Chief). These performances were a challenge for other drivers to emulate, and just two notables - John Langdon and Anthony Butt – have managed to do so.

Townley, whose Group 1 wins spanned some 30 years, retired as a driver at the end of the 1990 season while the 65 compulsory retirement rule was still operative; he was recognised as a master with the trotter, and had a preference for driving them.

He was partnered in his training operation by his son Kevin from 1986 to 1994, gradually easing himself into retirement. He passed away in 1999, aged 74. Kevin has carried on the family tradition by figuring prominently as a trainer and has had success on both sides of the Tasman with the classic-winning trotter Sundons Luck NZ.



race footage
1971 Pacing Final
Race footage copyright © NZ Trackside Tape Sales
1980 Trotting Final
Race footage courtesy Mike Dickinson